News for the Smith College Community | January 26, 2022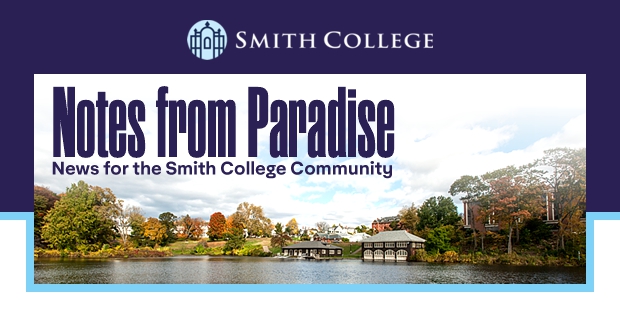 Fearing for Their Homeland
For the
winter issue
of the
Smith Alumnae Quarterly
, award-winning journalist and scholar Simran Sethi '92
reached out to Afghan members of the Smith community after the withdrawal of U.S. forces and the fall of Kabul last summer. Their conversations are a snapshot of the emotional pain, fear, anger, and hopelessness of that historic time.

'An Inclusive and Engaged Life'

Juliet Schulman-Hall '22 examines the housing challenges faced by people with intellectual or developmental disabilities. According to John Meyers, executive director of a disability advocacy group in Arizona, "I don't think we lack a solution, we lack the political will to make the solution happen."

Hanya Yanagihara '95 Rewrites History

In her New York Times review of To Paradise, the latest novel by Hanya Yanagihara '95, writer Gish Jen asks, "Can an Asian American woman write a great American novel?" and the answer is a resounding yes. Jen concludes, "This ambitious novel tackles major American questions and answers them in an original, engrossing way."

Fossils From Ancient Reefs

Sara Pruss, a paleontologist and geosciences professor at Smith, is one of the researchers studying the fossilized remains of an extinct tropical reef found high in the mountains of southwestern Nevada. Why these reefs disappeared is unknown, but Pruss and colleagues found a clue in the Nevada remains connecting their extinction to the decline of modern coral reefs—climate change.

Wiping Out Student Debt

In this episode of the Best New Ideas in Money, hosts Jeremy Olshan and Stephanie Kelton discuss eliminating federal student loan debt. Among those interviewed is President Kathleen McCartney, who explains why Smith eliminated undergraduate student loans, and how that choice reflects Smith's commitment to racial justice and equity.
'Freedom To Make Plans Bigger Than Myself'
In this interview with Adriana Beltran Andrade '23, as part of the Here For Every Voice initiative, she talks about her time at Smith and what financial aid has meant to her. "Financial aid gives me the freedom to spend my days making plans bigger than myself, understanding what I am passionate about and allowing me to focus my effort on making an impact where it's important."
Best Colleges for Students With Children
Smith College was ranked No. 5 in the list of the 12 best colleges for single parents and students with children. Smith earned its ranking because it offers the Ada Comstock Scholars program, which is open to nontraditional-age students with dependents and includes access to flexible course loads, career services, academic advising, and housing, as well as on-campus child care and after-school programs.
'Improv Is Life'
In an interview on NEPM's Connecting Point, Happier Valley Comedy President Pamela Victor '88 talks about the expansion of their space, the programs they offer, and how the organization creates connection and community through laughter. "Improvization is fantastic for building community, for building connections between people. We practice making each other look good. We practice being of service to each other. And we practice using our authentic voices, which is the most powerful tool that each one of us has," says Victor.

Smith College Notes from Paradise
Removal Instructions: Please click here to remove yourself from future mailings. Thank you.
Update your address