News for the Smith College Community | February 2, 2022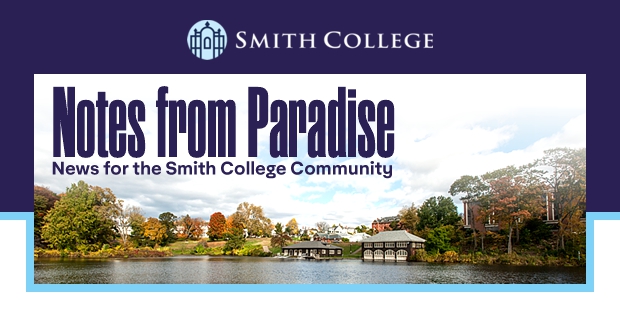 It's an E-Meow-Gency!
In the winter issue of the Smith Alumnae Quarterly, Smith's social media manager Rachael Hanley Hagerstrom '02 tells the heartwarming story of five felines in need of homes and the amazing group of cat-loving Smithies who saved them. "Sometimes I think Smithies are magical," says Alison Montgomery '10, a volunteer who drove almost seven hours to re-home three cats.

Between Form and Emptiness

In this New York Times podcast, Ruth Ozeki '80—novelist, Smith professor, and Zen Buddhist priest—talks about the link between meditation and writing. "When I start writing a novel, I know nothing about it. And so through meditation, I'm trying to cultivate the ability to sit in a relaxed state between knowing and not knowing until some kind of answers start to arise."

Fulfilling a Dream

In this interview with Phounam Pin AC '23J, as part of the Here For Every Voice initiative, she talks about the benefits of having a scholarship as an Ada. Pin says that coming to America from Cambodia and getting a Smith education is a dream fulfilled. "I'm doing something beyond myself—if I'm educated, if I'm successful, then my family will be successful, too."

Amherst Cinema Helps Sundance

Pioneer Valley film lovers recently got a taste of this year's Sundance Film Festival, thanks to Yasmin Chin Eisenhauer '94, executive director of the Amherst Cinema. The theater—one of only seven independent movie houses to participate in Sundance's Satellite Screens program—screened eight feature films and four shorts during the weekend of January 28–30.

Double Your Impact!

This month, gifts of any size to The Smith Fund will be doubled. The board of trustees will match all gifts made to The Smith Fund, dollar for dollar, up to $450,000. We're seeking 2,022 gifts by February 28 in honor of the great class of 2022. Rally for Smith with a gift today, and you can take pride in supporting confident and passionate Smithies ready to lead.
'How to Cast a New York City Movie'
Legendary casting director Juliet Taylor '67 has amassed an impressive list of credits over her decades-long career, including giving Meryl Streep her first role. In an interview by Vulture, Taylor gives advice on how to cast a movie, imparting pearls of wisdom like "Bet on the funny looking kid" and "Let Mike Nichols cry at auditions."
Excellence in Jewish Children's Literature
Jane Yolen '60, author of over 400 books, recently received the Body-of-Work award for excellence in Jewish children's literature from this year's Sydney Taylor Book Awards. Yolen's work includes an array of Jewish children's books for all ages, such as The Devil's Arithmetic, a bestselling time-travel novel about the Holocaust.
The Grécourt Gates of Smith
For this webinar, Lauren Willig, author of the current Alumnae Book Club selection, Band of Sisters, will be joined by historian Jennifer Hall-Witt and New York Times bestselling author Sarah MacLean '00. Together, they will explore the history of the Smith College Relief Unit and discuss the novel that has led to renewed interest in the accomplishments of these brave Smithies. The webinar will be held on February 23 at 7 p.m. Eastern time.

Smith College Notes from Paradise
Removal Instructions: Please click here to remove yourself from future mailings. Thank you.
Update your address