News for the Smith College Community | February 9, 2022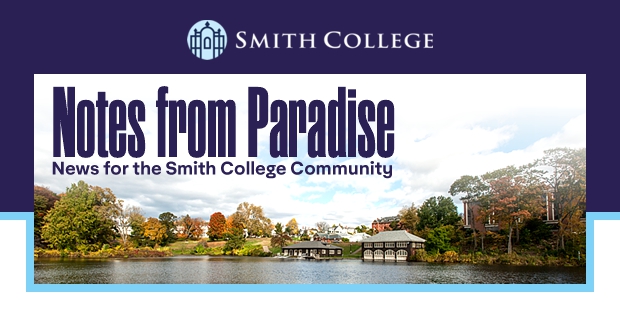 A Maestro on the Rise
In 2014, Elim Chan '09 was the first female conductor to ever win the Donatella Flick London Symphony Orchestra Conducting Competition. Now, she's the chief conductor of the Antwerp Symphony Orchestra in Belgium, where she is both the youngest director and the first female in that role. Chan says she's happy to be an inspiration for other women, but adds, "I don't want my gender to take away from what I can bring to the music. I want people to see that I am a good conductor." Photo by Willeke Machiels.

Presidential Colloquium: Masha Gessen

Masha Gessen, author of 12 books and a staff writer at The New Yorker, will give a Presidential Colloquium at 5 p.m. ET on Tuesday, Feb. 15. Gessen has covered political subjects that include Russia, autocracy and LGBTQ rights, among others. The campus community may participate via Zoom. The general public may join via a livestream on Smith's Facebook page.

So You Want to Be a Poet?

Matt Donovan, director of Smith's Boutelle-Day Poetry Center, teaches The Art and Business of Poetry, designed to connect humanities students with career resources. "It's easy to think of poetry as a poster child for an impractical career route, but I would argue the opposite," says Donovan. "What poetry affords are creative skill sets that are applicable and desirable in any field."

'A Capable Coder'

Vivienne Maxwell '22J, a Posse Scholar at Smith, recently shifted the focus of her studies from paleontology to climate change. Her resulting coding research in paleoclimatology will help scientists reconstruct past climates so they can better predict future climate trends. "It's exciting to be developing a technology that many paleoclimatologists will use," says Maxwell.
Friends of Smith College Reunion Award
Your class could be the recipient of the Friends Reunion Award on Ivy Day, and you can help! All alumnae are invited to join one or more Friends groups—Athletics, the Botanic Garden, the Libraries, the Museum of Art—and support the amazing opportunities that make a Smith education so special. The class with the most members in any Friends group will receive the Friends Reunion Award. Boost your class standing and help keep Smith strong—join a Friends group today!
Honoring Change Makers
Four extraordinary alums will receive the Smith College Medal at Rally Day on February 24, in recognition of their contributions to their communities and the world. This year's medalists are former U.S. representative and global security expert Jane Lakes Harman '66, gender-equality advocate S. Mona Ghosh Sinha '88, civil rights leader Deborah Archer '93 and entrepreneur and sustainable foods advocate Jessie Banhazl '06. This event will be virtual only; more details will be posted closer to the date.
Smith People in the News
Recent accomplishments of Smith students, faculty, staff and alumnae include Jess Duff receiving the NCAA LGBTQ Athletics Administrator/Coach/Staff of the Year Award, Danielle Kim '11 being named the first director of the Boston Foundation's Asian Community Fund and Cara Blue Adams '99 winning the John Simmons Short Fiction Prize for her short story collection, You Never Get It Back. Check out the latest People News to learn more!
Call for Honorary Degree Nominations
President Kathleen McCartney, chair of the Committee for Honorary Degrees, invites nominations of individuals of distinction for honorary doctoral degrees. To learn more about the award, view a list of past recipients or nominate an outstanding individual, go to the Submit Nominations for Commencement Speakers and Honorary Degrees page of the Smith website.

Smith College Notes from Paradise
Removal Instructions: Please click here to remove yourself from future mailings. Thank you.
Update your address