News for the Smith College Community | February 16, 2022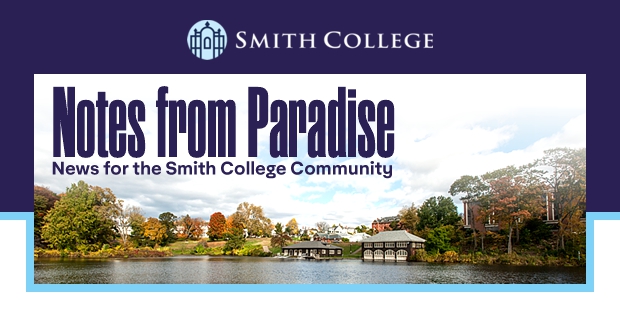 Learning to Use Power Wisely
On NPR's Morning Edition, Wendy Sherman '71, the first female deputy secretary of state, talks about leading the Biden administration's dialogue with Russia. She says she learned a lot as a top aide to Madeleine Albright during Clinton's presidency. Sherman recalls, "She taught me early on that when one negotiates, I am not really Wendy Sherman, or even a woman, or a 72-year-old grandmother, I am the United States of America. And if one understands that, you come to the table with an enormous amount of power, and one has to use it wisely."

'A Novel Without Padding'

Actor and author Sophie Ward writes The New York Times review of You Never Get It Back, the debut novel by Cara Blue Adams '99. The book consists of a set of interlinking stories about the life of Kate Bishop, described by Ward as "a somewhat privileged 20-something." Ward concludes, "Adams succeeds in capturing the microcosm of a young woman's ordinary struggle in modern America."

Because of Her, We Can

The University of Texas at Tyler recently honored Evelyn Granville '45, the second Black woman in U.S. history to earn a doctoral degree in mathematics. Granville contributed to America's early space missions as a computer programmer for IBM and has been a lifelong advocate of STEM education for youth.

The Good Disruptor

Authority Magazine interviews Bayleigh Bogan '19 of Collectiv Presents about how she's shaking up the male-dominated music industry. When asked if being disruptive is good or bad, Bogan says that it's positive if it strengthens the voices of others, "because the industry is built around inclusion, art, and acceptance, which are all voiced in different ways that should be protected."

The Power and Reach of Words

After working as a full-time member of the film crew on the set of Showtime's Dexter: New Blood in March 2021, Violet Rawlings '23 who plans to pursue a career in the entertainment industry, is looking toward the future with fresh eyes. The experience has lit a fire for both the writer and the activist within her.
Amplifying Black Voices
Kimberly Drew '12 was just appointed associate director of the Pace Gallery in New York. An art history and Africana studies major at Smith, Drew interned under Thelma Golden '87 at the Studio Museum in Harlem. "[She] has already left her mark on the art world through various contributions which have helped amplify the voices of Black artists and creators," said Marc Glimcher, Pace's president and CEO, in a statement last week.
12 Days Left to Double Your Impact!
During the month of February, gifts of any size to The Smith Fund will be doubled. The board of trustees will match all gifts made to The Smith Fund, dollar for dollar, up to $450,000. We're seeking 2,022 gifts by February 28 in honor of the great class of 2022. Rally for Smith with a gift today, and you can take pride in supporting confident and passionate Smithies ready to lead the world.
Vacationing Like an Italian
In this article by Laura Itzkowitz '09, she tells the story of falling in love with Italy (and with Marco), moving to Rome, getting married, honeymooning in Sicily, and contemplating her future. Itzkowitz asks herself, "How much of my identity as an American journalist will be erased as I become a resident of Italy and a wife?" and ends with this realization: "As much as I want to assimilate, I suppose I can't escape my roots. But maybe I don't need to."

Smith College Notes from Paradise
Removal Instructions: Please click here to remove yourself from future mailings. Thank you.
Update your address