News for the Smith College Community | February 23, 2022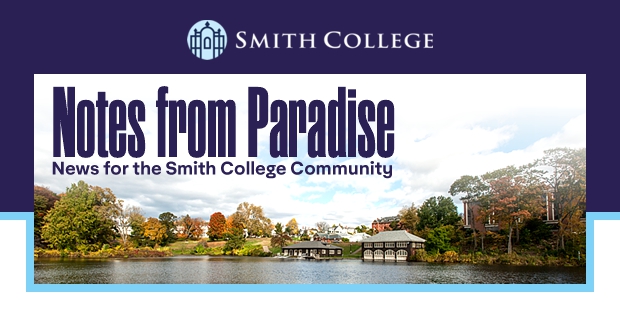 Ready to Rally!
Gender equality advocate S. Mona Ghosh Sinha '88 is one of four remarkable alums being honored with the Smith College Medal during this year's Rally Day celebration, which will be streamed on Smith's Facebook page beginning at 1:30 p.m. ET on February 24. In a recent Q&A, Sinha talks about the work that still needs to be done: "Patriarchal systems across the globe must be disrupted for every human being to be able to thrive. Let's remove existing biases that hamper diversity in leadership and instead create pathways for success."

A New Northampton Resilience Hub

Emily Grantham '24, Fhrynee Lambert '24, Debora Camacho '25 and Tseegi Nyamdorj '25 came to the Jandon Center looking to engage more thoughtfully with the larger community. Their efforts are now supporting the new Community Resilience Hub, a collaborative effort that will support local residents most impacted by socioeconomic stress and health crises.

'Monogamy is a Funny Thing'

In this interview, associate professor Annaliese Beery, a behavioral neuroscientist who is studying prairie vole monogamy, talks about the experiment she conducted to learn more about why animals might choose only one partner. "Putting vole monogamy to the test helps us better understand human relationships and our process for selecting who we spend time with," says Beery.

If at First You Don't Succeed

Every time he makes a mistake in his classroom, assistant professor Albert Y. Kim donates to Smith. This gesture models accountability, and, according to Emily Paule '22, reflects Kim's commitment to "standing up for students in a direct, tangible way. It's a reminder to live my principles, to practice them loudly and often and intentionally."

Gardens as Agents of Change

John Berryhill, landscape curator for the Botanic Garden of Smith College, believes that from their unique vantage point, botanic gardens can be "powerful actors" for social justice. He will share examples of how Smith's botanic garden is doing just that in a virtual talk on Thursday, March 3, at 4:15 p.m. ET.
Webinar: Love Languages at Work
In this prolonged period of the pandemic, are you feeling like the spark is fading in your relationship with your job? Let's reimagine how the Love Languages concept can be applied to your relationships at work. In this interactive workshop on Thursday, March 3, at 1 p.m. ET, coach and consultant Imani Missouri '08 will introduce this tool to identify the factors that motivate you and help you gain greater fulfillment in your professional life.
Pioneering Women on the Front Lines
Stephanie Gorton reviews The Correspondents, a biography of six female journalists who reported from the front lines of World War II. One of the six was Helen Kirkpatrick '31, a correspondent for the Chicago Daily News. When she originally applied for the position, she was told that they "don't have women on the staff." Kirkpatrick simply replied, "Well, you know you can change your policy, but I can't change my sex."
Smith alum is a 2022 McKnight Fellow
Olivia Levins Holden '09 was recently named one of two recipients of the 2022 McKnight Fellowships for Community-Engaged Artists. Holden—a queer, mixed Boricua muralist, organizer, artist, and educator, born and living on Dakota land in Minneapolis—has created and led the creation of 26 permanent murals in Minneapolis, California, and Puerto Rico. Holden was also a 2015 recipient of the Forecast Public Art project grant.

Smith College Notes from Paradise
Removal Instructions: Please click here to remove yourself from future mailings. Thank you.
Update your address