News for the Smith College Community | March 2, 2022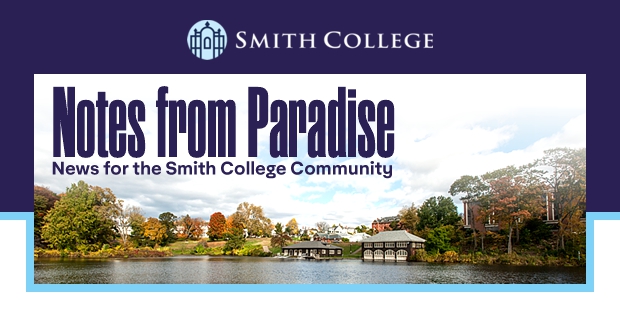 President McCartney Stepping Down in 2023
In a February 25 letter to the Smith community, Kathleen McCartney announced that she will step down in June 2023, after spending a decade as the 11th president of Smith College. "Bill and I know already that it will be difficult to leave this community of extraordinary people who make this college the outstanding place we all know it to be," she wrote. "I am heartened that we still have much time to be together."

2022 Graduation Speaker Announced

Smith College medalist and CNN Hero Luma Mufleh '97 will deliver the address at Smith's commencement ceremony on Sunday, May 15. Mufleh is the visionary founder of Fugees Family, a nonprofit organization that is reimagining schools and retraining teachers to make America's education system more accessible to refugee and immigrant children.

Enjoy a Replay of Rally Day!

Watch the February 24 webcast of Rally Day 2022 as four amazing alums receive the Smith College Medal: former U.S. representative and global security expert Jane Lakes Harman '66, gender equality advocate S. Mona Ghosh Sinha '88, civil rights leader Deborah Archer '93, and entrepreneur and sustainable foods advocate Jessie Banhazl '06.

A Glimpse of Spring: The 2022 Bulb Show

Crocuses, hyacinths, narcissi, irises, lilies and tulips are about ready to bloom, and just in time for the 2022 Bulb Show! This year's show will be open the week of March 7–11 and the week of March 14–18, 9 a.m. to 4 p.m. Access to the show is limited to those who registered in advance as well as to members of the Smith community with proper ID.

Smith Basketball Takes Championship

Smith's basketball team claimed the NEWMAC title with their 68–46 victory over Babson College this past Sunday. Forward Jessie Ruffner '24 was named the tournament's Most Outstanding Player. Next, for the first time in program history, the Pioneers will host the first two rounds of the NCAA Tournament beginning on Friday, March 4, at Ainsworth Gymnasium.
Sounding the Alarm on America's Greatest Crisis
Economists Laura D'Andrea Tyson '69 and Lenny Mendonca co-author this article about voting rights in America. They write that while Republicans are actively fighting to suppress voter rights nationwide, most Americans are prioritizing other issues. "American democracy is facing its greatest crisis since the Civil War, and U.S. citizens, their focus trained on the economy, are failing to connect the dots," they write.
Why Company Loyalty Doesn't Pay
In this Boston Globe op-ed, Katherine Hitchcock-Smith '17 writes about what's behind the "great resignation"—over 20 million people quitting their jobs in the second half of 2021. While some have deemed it a problem with workers, Hitchcock-Smith argues that it's the fault of companies: "Company loyalty doesn't pay, monetarily or otherwise."
Smith Alum Named VP of Bar Association
Niki Ingram '76 has been named vice president of the Philadelphia Bar Foundation. She is serving a two-year term that began on January 1 and is also the foundation's diversity, equity and inclusion officer. Ingram, who is senior counsel at Marshall Dennehey Warner Coleman & Goggin, is also a recipient of the Sadie T. Alexander Award for Distinguished Alumni from the University of Pennsylvania Law School.
Mormon Feminists Fight for Inclusion
David Howlett, assistant professor of religion at Smith, co-authors this article about five former Mormon women who left the Church of Jesus Christ of Latter-day Saints to pursue a call to ministry by attending seminary in other denominations. Currently, the LDS church ordains only cisgender men and boys age 11 and older, but there is a large community of Mormon women's rights activists advocating for an equivalent ordination for girls and women.

Smith College Notes from Paradise
Removal Instructions: Please click here to remove yourself from future mailings. Thank you.
Update your address