News for the Smith College Community | March 9, 2022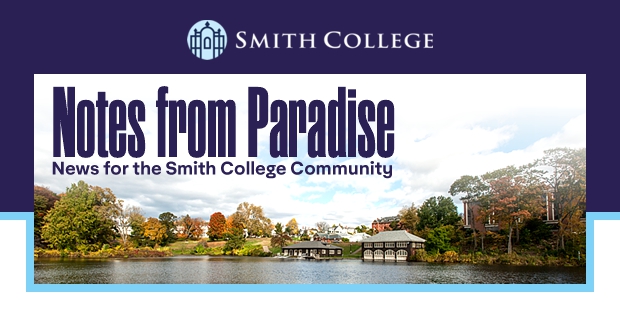 Committing to Racial Justice and Equity
In this interview with Floyd Cheung, professor and vice president for equity and inclusion, he talks about implementing Toward Racial Justice at Smith College—a strategic plan developed to advance antiracism work and make Smith truly inclusive. "Access is not inclusion," he explains. "The latter requires deep reflection, thoughtful conversation and systemic change. Plans like this ensure that our work is visible and tangible, valued and prioritized at every level."

Promoting LGBTQ+ Inclusion in Hockey

Nora Cothren '12 is the co-chair of the Northeast Regional Board for the You Can Play project, which is dedicated to ensuring the safety and inclusion for all who participate in sports, including LGBTQ+ athletes, coaches and fans. In this article, she talks about being gay in hockey and the impact of two Philadelphia Flyers players' public support of the LGBTQ+ community.

The Power of Music and Singing

In this SoundLives podcast, Frank J. Oteri talks with Alice Parker Pyle '47 about the importance of music and its diminishing role in our culture. "We need to value [music/singing] as one of the most precious kinds of communication that we have, and to afford it much more honor than we do generally in our society," says Pyle.

Helping Students Achieve Their Dreams

Nolvia Delgado '11 will be the new leader of the Kaplan Educational Foundation, which provides high-potential, low-income students with academic and financial support and leadership training. Years ago, Delgado completed the foundation's leadership program and says it was life changing: "It taught me to dream big and equipped me with the leadership skills to make this dream a reality."

Enjoy a Burst of Spring

The 2022 Spring Bulb Show is in full bloom and filling the Lyman Conservatory with color. Since in-person access to the show is limited, Smith is providing other channels for bringing the show to audiences. Join Chlo Gold '25 and greenhouse horticulturist Lily Carone on this video tour, where they point out the highlights of this year's show.
Top Producer of Fulbright Scholars
Smith College has consistently been listed among the top producers of The Fulbright Program scholars—and this year is no different. We're proud of our outstanding students, particularly our most recent grantees: Erin Hanley '19, Camryn McCarthy '20, Sakina Ali '21, Lydia Quevedo '21, Giovanna Sabini-Leite '21, Iver Sadie Warburton '21 and Halle Duckworth '21J.
Webinar: Career Exploration and Frontloading Your Values
Sometimes the hardest part of finding your way to your dream career is knowing where to begin. Certified career coach Emily Frank '93 advises that prioritizing your personal values is the best place to start. In this Network at Work session, Frank will share tips for identifying your needs and values and will demonstrate how to weave those together with your professional experiences to find the right career path for you.
'The Wrong Question More Than Once'
In this episode of her podcast The Slowdown, Ada Limón reads Professor Matt Donovan's poem "The Wrong Question More Than Once," which ponders gun violence and acknowledges the inherent racism embedded in our view of mass shootings: "It's a problem when it's white lives. When a six-year-old gets shot on the South Side, it's just crime as usual." Donovan is also the director of Smith's Boutelle-Day Poetry Center.
Friends of Smith College Reunion Award
Your class could be the recipient of the Friends Reunion Award on Ivy Day, and you can help! All alumnae are invited to join one or more Friends groups—Athletics, the Botanic Garden, the Libraries, the Museum of Art—and support the amazing opportunities that make a Smith education so special. The class with the most members in any Friends group will receive the Friends Reunion Award. Boost your class standing and help keep Smith strong—join a Friends group today!

Smith College Notes from Paradise
Removal Instructions: Please click here to remove yourself from future mailings. Thank you.
Update your address