News for the Smith College Community | March 23, 2022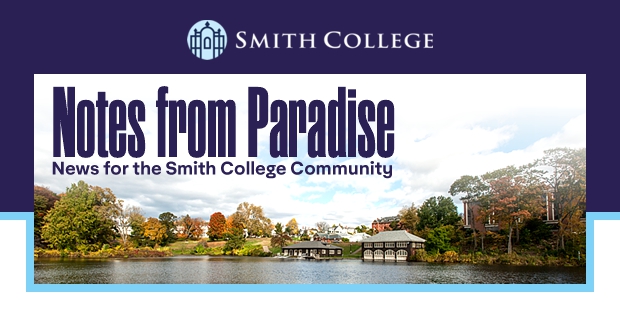 Creating Equity in Kenya's Coffee Industry
Margaret Nyamumbo '11 is founder and CEO of Kahawa 1893—the first Black- and woman-owned coffee brand to be sold at Trader Joe's. Nyamumbo started her business because she was deeply troubled by the inequities in Kenya's coffee industry—African women provide 89% of farm labor but own only 1% of land. Kahawa 1893 dedicates 25% of its profits to supporting these women, and Nyamumbo is exploring technologies like blockchain to help protect the interests of coffee farmers.

Big Screen, Powerful Narratives

One of five female Pakistani directors highlighted in this article is Sharmeen Obaid-Chinoy '02—a journalist, filmmaker and activist who has received two Academy Awards and seven Emmys. She's made two internationally-acclaimed documentaries, including Saving Face, which follows two women subjected to acid attacks. Up next: She's helping direct Ms. Marvel for Disney+.

Colloquium on Democracy in America

Annette Gordon-Reed, a Harvard University professor and the first African American recipient of the Pulitzer Prize for history, will deliver a Presidential Colloquium talk titled "The Struggle For Democracy in America" at 5 p.m. ET on Thursday, March 31, in Sweeney Concert Hall. This event is open to the campus community and to Smith alums via livestream.

How Law Schools Are Failing

As the Supreme Court considers overturning critical abortion care legislation, Nina Henry '19 shines a light on how law schools are failing to prepare the next generation of leaders in the area of reproductive justice. "Most law students' knowledge of reproductive rights begins and ends with one class on Roe v. Wade," she writes.

Webinar: Wake Up Your Spring Garden

Spring is the right time to set up your garden for a successful and enjoyable growing season. Join Botanic Garden Director Tim Johnson, along with John Berryhill, the garden's landscape curator, as they discuss how the work that happens when soils and temperatures are still cool helps ensure thriving gardens.
Smith Medalists on Life, the Liberal Arts and Lessons Learned
Listen in as this year's Smith College Medalists Jane Lakes Harman '66, S. Mona Ghosh Sinha '88, Deborah N. Archer '93 and Jessie Banhazl '06 discuss how Smith resonates in their work and life, their thoughts on the relevance of liberal arts education and what advice they might give to their undergraduate selves.
Black Women Reshaping Human Rights
In this NPR podcast, Loretta Ross, associate professor at Smith, and Barbara Phillips, former associate professor at the University of Mississippi School of Law, talk with Stanlie James about her new book, Practical Audacity: Black Women and International Human Rights, in which James profiles 14 Black women dedicated to human rights.
'A Transformative Force for Good'
Joanne Heyman '84, a coach, facilitator, strategic adviser and lecturer, has been elected chair of the board of directors for The GroundTruth Project—an award-winning, independent, nonprofit news organization dedicated to supporting the next generation of journalists. "Challenges to freedom of the press, domestically and internationally, constitute one of the gravest issues we face," says Heyman.
Dynamic and Defiant Chinese Fiction
In this article, Sabina Knight, Smith professor of Chinese and comparative literature, discusses the value of fiction by China's multifaceted ethnic minority writers. "China's 55 officially recognized 'minority peoples' number more than 130 million, and their literature deserves study both for its political urgency and for its lyricism and philosophical power," she writes.

Smith College Notes from Paradise
Removal Instructions: Please click here to remove yourself from future mailings. Thank you.
Update your address