News for the Smith College Community | March 30, 2022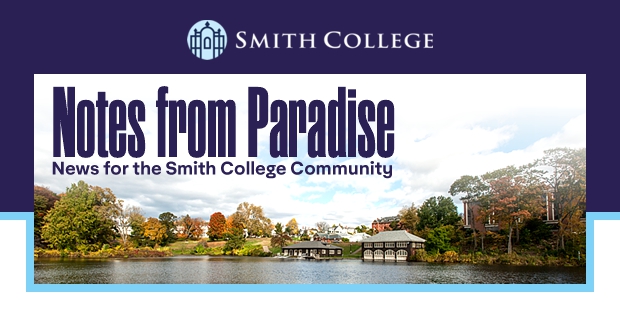 Draper Competition Turns 10
Currently in its 10th year, the Draper Competition has helped level the playing field for women entrepreneurs. It is now the No. 7 collegiate entrepreneurship contest in the country. In this article, Melissa Parker Draper '77, who founded the competition with her husband, Tim, reflects on the past decade: "There's a real difference when you talk to the ones who are living and breathing their enterprise ideas. There's a different level of enthusiasm. You can hear it and feel it, and it's so exciting," she says. This year's event will be held virtually from April 4 through April 8.

'The Bullseye in Black Women's Hair'

Writer Lori Tharps '94 discusses the recent Oscars drama and what the incident was really about: a Black woman's hair. "America loves to criticize and make fun of Black women's hair. And it's not just white people making jokes. It's often other Black people shaming, scolding, or finding the funny in Black hair," writes Tharps.

'Intrigue, Deception, Sensationalism'

In this episode of NPR's Off the Page, Railey Jane Savage '07 talks about her second book, A Century of Swindles: Ponzi Schemes, Con Men, and Fraudsters. It explores seven infamous schemes that took place between 1850 and 1950, committed by hustlers who are "long dead, but the echoes of their actions are definitely still ringing today," says Savage.

Faculty Members on the Rise

Tenure and promotion recommendations for 14 faculty members were recently approved. Promoted to associate professor with tenure were Andrew Berke, Patricia Cahn '06, Jennifer DeClue, Randi Garcia, Niveen Ismail, Jamie Macbeth, Jessica Moyer, Javier Puente, Vis Taraz and Rory Crath. Promoted to professor were Chris Aiken, Sergey Glebov, Marguerite Itamar Harrison and Angie Hauser.

A New Career Services Fund

At Smith's Lazarus Center, the staff focuses on holistic support for students so they can be successful in their careers. The Smith Fund is raising $250,000 to continue to invest in personalized career-planning assistance. Will you join us? Your gift to the Career Services Fund will directly help Smithies as they begin their career journeys.
Webinar: Pivot! Transferable Skills and Career Transitions
It is said that experience is our best teacher. What has your work experience taught you about your strengths, desires and areas of growth? Join Gail Fritzinger '81, a career guru with over 20 years of experience, to learn how you can shine a light on your transferable skills for your next opportunity. Pivot with wisdom, positivity and preparation.
What It Means To Be Successful
Jessica Duff, Smith's associate athletics director, recently received the 2021 NCAA Division III LGBTQ Administrator-Staff-Coach of the Year Award. "For me, seeing others—be it athletic administration, my coaches, my teammates—live openly and authentically was really transformative in my coming-out process," Duff says. "If I can be that person for someone who might be struggling, I consider that a success."
Strong Coffee, Stronger Women
In honor of Women's History Month, writer Laura Begley Bloom '91 tells us why she loves Northampton. The biggest reason? It's home to Smith College, of course! But that's not all. "Smith's trailblazing spirit has spilled over into 'Noho,' which has long been a hub of feminist activism and cultural innovation," says Bloom, and the Smith campus is "just steps from funky restaurants and cool boutiques."
Smith Alum Wins Hispanics in Higher Education Award
Kristine M. Molina '05, associate professor of psychological science at the University of California, Irvine, has been awarded the American Association of Hispanics in Higher Education's 2022 University Faculty Award for demonstrated excellence in research and teaching and for providing significant contributions to her academic discipline.