News for the Smith College Community | April 6, 2022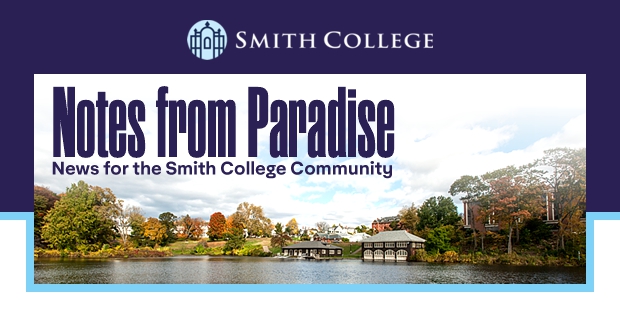 Sources of Joy and Connection on Campus
Emily Drennan '23 is a first-place winner in this year's Amplify Competition, which provides students with the opportunity to raise their voices and draw attention to issues that matter to them. Drennan's appreciation for Smith banners inspired her to create a public art project that garnered the first-place award. Now, her piece, "Love Letters," will be installed this spring at entry points to the Wurtele Center for Leadership.

Feeling Humbled to Serve

In this recent interview, President Kathleen McCartney discusses her decision to step down in 2023 and reflects on her time at Smith. "This job has been the honor of a lifetime, and I think we have accomplished a great deal as a community. But all good things must come to an end," McCartney says.

Presidential Colloquium: Jennifer Rubin

Jennifer Rubin, an opinion writer for The Washington Post, will deliver a Presidential Colloquium talk titled "Our Constitutional Inflection Point: Responses to Our Crisis of Democracy" at 5 p.m. ET on Tuesday, April 12, in Sweeney Concert Hall. The lecture will also be livestreamed on Smith College's Facebook page.

A 'Little Piece of Heaven'

Nominated by President Biden, Cynthia Ann Telles '74 was recently sworn in as the new U.S. ambassador to Costa Rica—the country her father called a "little piece of heaven" during his tenure as U.S. ambassador under the John F. Kennedy administration. Telles is fluent in Spanish and has a doctorate in clinical psychology.

Feminist Press Welcomes Smith Alum

Margot Atwell '05 is the new executive director and publisher of Feminist Press, which publishes "books that ignite movements and social transformation." Atwell is a writer, editor, publisher and community funding expert. Most recently, she was director of outreach and international for Kickstarter.
Jumping Through Hoops
After a great 2021–22 season, the Women's Basketball Coaches Association ranked the Smith Pioneers No. 9 in the nation, the highest ranking in program history. The team also won the NEWMAC Championship for the second consecutive season. Head Coach Lynn Hersey was named NEWMAC Coach of the Year and NEWBA Coach of the Year. Hersey has the most wins of any basketball coach in school history, with a record of 241–146.
A Pop of Culture
Marie Koury '17 and her sister, MJ Corey, co-host and co-produce an 11-episode interview/variety series called Between Two Salads: A Talk Show About Social Media. They take a fresh and focused look at the weirdness of life online by engaging "social media's superstars" in intellectual but entertaining conversations about their experiences. It is rolling out bimonthly on YouTube until May 2022, and is completely DIY and self-funded. Koury is also the director and editor.
Colors of Spring at the Botanic Garden
The Bulb Show might be over, but you still have a chance to see the beautiful blooms at the Lyman Plant House. In this MassLive article, eight photos show what's been happening—from Campus School third graders using the flowers to inspire poems they'll write in collaboration with Smith's Poetry Center, to Miami Sunset tulips, which show a ton of color even in the last stages of life.
Donate to the New Career Services Fund Today!
At Smith's Lazarus Center, the staff focuses on holistic support for students so they can be successful in their careers. The Smith Fund is raising $250,000 to continue to invest in personalized career-planning assistance. Will you join us? Your gift to the Career Services Fund will directly help Smithies as they begin their career journeys.