News for the Smith College Community | April 13, 2022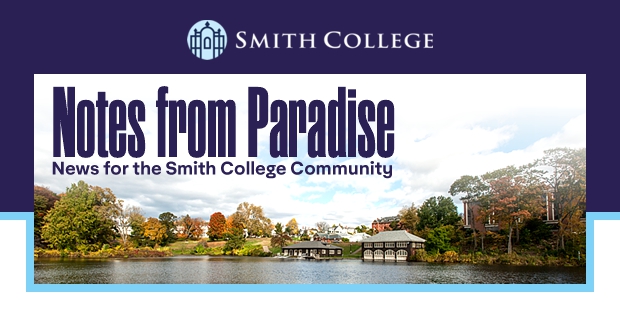 A Pioneer of Family-Focused Therapy
For Anne Labouisse Peretz '60, making art is in her blood, but being of service is her priority. In this SAQ profile, Peretz talks about the influence of her father's work as an American diplomat, how she strikes a balance between her two passions, and the impact of her pioneering work as a family therapist and founder of Parenting Journey—an organization that has transformed the way therapists and social workers assist at-risk families.

Honoring Activism

The Special Collections reading room on the third floor of Neilson Library has been named the Gloria Steinem '56 Special Collections Reading Room in honor of the iconic writer and activist. In making the announcement, President Kathleen McCartney said, "We are grateful for her leadership, her strength, and her passion for equality." The collections are also home to Steinem's papers.

No Longer Business as Usual

Co-authored by Yoo Eun Kim '16, this Psychology Today article examines the impact of the pandemic on "care-centered professionals" such as teachers and health care workers, who have reported higher levels of depression and anxiety than professionals in other specialties. Kim et al. write, "Without a significant overhaul to how we treat our care-focused workers, the future of our society is at risk."

Webinar: The Power of Coalitions

Hear Smith alums at various stages in their careers speak to the joys and challenges of building coalitions across differences and fostering collaboration within their work. Panelists include Christina Dragon '09, Kathy Kim Im '94, Catherine Lenz '15, and Shirley Sagawa '83. The event is open to Smith students, staff, faculty, and alums.

Senior Profile: Helen Danielson '22

For Helen Danielson '22, choosing Smith was a no-brainer: With two vastly different interests—dance and engineering—she could pursue them both. Now, as Danielson prepares to graduate next month, she reflects on her Smith experience. What will she miss most? The camaraderie.  "Smith is so focused on community," she says.
Broadband as Human Capital
Smith's Assistant Professor Scott LaCombe and co-authors highlight the gaping disparities in broadband access in both urban and rural communities, and explain why policymakers can't afford to ignore these place-based discrepancies: "We find that, as the percentage of the population with broadband subscriptions rises, it predicts growth in prosperity, median income, and employment in communities."
Telling Stories Through Art
The Ronchini Gallery in London is presenting Tall Tales, the first solo exhibition of Korean American painter Julia Jo '16, who created the individual works in the exhibit as different parts of a single tale about relationships. An art major at Smith, Jo also has an MFA from New York's Parsons School of Design. This is her first time exhibiting her work in Europe.
Keeping Local Farms Alive
Marlo Stein '17 and Archer Meier '18 are featured in this Edible Boston article about purchasing their first farm and becoming "proud, queer Jewish farmers." They are currently making cheese and growing flowers, but they have plans to build their herd of cows and add goats. "People just want to see young farmers coming in with a desire to keep that history alive; it's a really big deal in this community," says Stein.
Avenues for Black Trans Women Artists
Writer, curator, and activist Kimberly Drew '12 was recently chosen as one of three judges for the third annual Illuminations Grant for Black Trans Women Visual Artists. The first of its kind, this $10,000 grant "sheds light on the underrecognized contributions of Black trans women visual artists and provides critical support to their continuing work." Drew is the co-editor of the book Black Futures and recently joined Pace Gallery as associate director.