News for the Smith College Community | April 20, 2022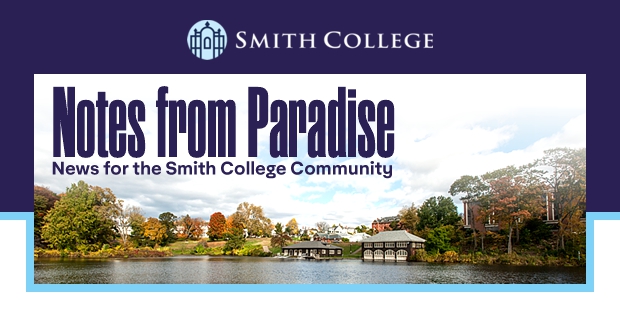 Being Attuned to the Light

In this SAQ article, Smith psychology professor Mary Harrington explains how light influences our circadian rhythms, and why nighttime darkness is an issue of equity: "We are healthier if we can have darkness at night. For many people this is a challenge ... Light pollution is associated with poverty. It's an issue of social justice we don't often think about—the ability to have dark nights."

Advancing Education Research

Kimberly Scott '91 recently received the 2022 Distinguished Contributions to Gender Equity in Education Research Award from the American Educational Research Association. The award "recognizes individuals for distinguished research, professional practice, and activities that advance public understanding of gender and/or sexuality at any level in the education community."

It Takes a Mortgage, Not a Village

In this interview, comedian and storyteller Phoebe Potts '92 talks about her one-woman show Too Fat for China, in which she brings humor to the challenges of adopting a child. She explains, "I go on a discovery in this show to find out it doesn't take a village to raise a child, it takes a mortgage to get a child."

Smith Athletics Giving Challenge!

Thursday, April 21, marks the start of the 2022 Giving Challenge—a 24-hour competition to support Pioneer Athletics. You can contribute to a specific sport or give to the Friends of Athletics general fund. Whichever you choose, your gift will help provide Smith student-athletes with the resources necessary to compete at the highest level.
Portrait of an Artist
In her column "Looking at the Masters," Beverly Hall Smith highlights American painter Janet Fish '60 for her works that welcome spring—like Tulips and Coffee Cups, an example of one of Fish's early paintings. After attending Smith, Fish completed an MFA at Yale University School of Art and Architecture, and went on to become a part of the vibrant New York art scene.
'Empowering Community Agents to Drive Change'
Monique King-Viehland '99 recently joined the Urban Institute as the first director of state and local housing policy. She will help create strategies to address a variety of housing policy issues such as homelessness and zoning reform. Of her new role, King-Viehland says, "Throughout my career, I have witnessed and harnessed the power of research and data as tools to empower community agents to drive change. I am honored to join a team of fellow impassioned problem solvers."
Curators of Wind and Weather Data
Rachel Sturges '02 writes about two digital weather maps that are both amazing in their beauty, but also powerful in their ability to model and forecast wind and weather patterns across the globe. The data that fuels these maps comes from an array of sources, including satellites, weather balloons, high-tech ocean buoys and National Weather Service supercomputers.
Immigrant Entrepreneurs Lift Up Their Community
In this episode of JobMakers, a podcast hosted by Boston's Pioneer Institute, Celina Miranda '97 discusses how immigrant business owners transformed the Boston neighborhood of Jamaica Plain "from one of the most crime ridden and dangerous to one of the safest and most desired." Miranda is the executive director of Hyde Square Task Force, and has spent her career working to better the lives of those in underserved communities.