News for the Smith College Community | April 27, 2022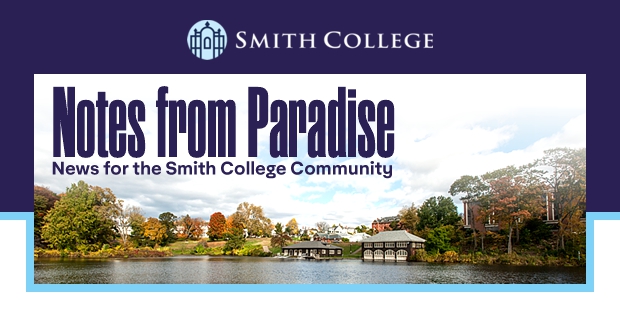 Righting the Wrongs of Injustice
In this SAQ article, filmmaker Garrett Bradley '07 talks about growing up in New York City, learning the essentials of moviemaking at Smith, and creating a body of work that not only interrogates capitalism, culture and the quest for social justice, but also imbues in viewers a sense of possibility that a better world is coming. Her next project: a film version of Octavia Butler's dystopian novel Parable of the Sower.

Tour the New Neilson!

Join Nyla Conaway '23 and Jess Buslewicz '22 as they take you on a seven-minute tour of the new Neilson Library. They'll show you the Learning Commons, the Compass Café, Special Collections and the Skyline Reading Room. They'll also share their favorite places in the library, and tell you where to find "a taste of Smith history."

The Heart and Soul of Smith

During this last week of classes, Smith is celebrating the work of faculty across the college and saying thank you to all the scholars, mentors, researchers, artists and performers who push boundaries and inspire us to do better. As President Kathleen McCartney says, "Faculty are the heart and soul of Smith."

'A Moment of Real Change'

In this Q&A, law professor Mary Jo Wiggins '84 reflects on the appointment of Judge Ketanji Brown Jackson to the U.S. Supreme Court. "A person from a group in society that is often marginalized and disrespected, ascended to the highest court in the land—that is a moment of real change. [What she brings] to her work on the court will change the way the court operates," says Wiggins.

Senior Profile: Charlie Diaz '22

Charlie Diaz '22 chose Smith because it was a place with "people who wanted to be movers and shakers in the wider world." He connected early on with the Bridge Program for first-year and transfer students of color, and since then has been a project fellow for Democracies Redux and Smith Alliance for Justice and Equity Fellow. "I was in good hands from the start," he says.
Life as a Chinese American Teen
The World's Greatest, the debut film by Judy Lei '11, will premiere at the Los Angeles Asian Pacific Film Festival on May 13. Lei—an actor, performer, writer, producer, filmmaker and community organizer—wrote, co-directed and stars in this coming-of-age story about a second-generation Chinese American teen growing up in New York City.
Making a Difference for Women Athletes
Nancy Feldman MS '88 is retiring after 27 years as head coach of the Boston University women's soccer team. During her tenure, Feldman has been named conference coach of the year 12 times and amassed 418 victories. "The wins are great, the championships are great, there are certain highlights—but to hear how you positively influenced other people is what any of us would want on our tombstone," says Feldman.
Barriers to Access at College Newspapers
In this op-ed about the inequity created by unpaid student newspaper positions at small liberal arts colleges, Mikayla Patel '22—outgoing editor of The Sophian—talks about her experience. "Participating in the newspaper, definitely ... but especially as editor-in-chief—I don't know how you would be in school and do that and have a job at the same time," Patel says.
Meet the Majors
In this collection of Q&As, members of the class of 2022 from every academic discipline reflect on their time at Smith and what their education means to them. Answering questions like "What's the most 'Smithie' thing you've done in life so far?" and "What's a favorite secret or inside info about your house that you wish more people knew?"—these soon-to-be alums look back at their Smith experience with humor and appreciation.