News for the Smith College Community | May 4, 2022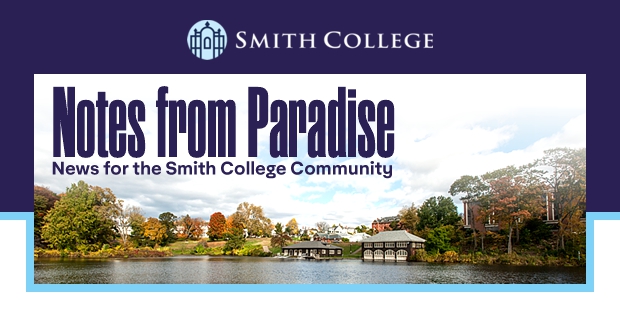 A Giant Step Toward Carbon Neutrality
Smith is committed to acting against climate change and achieving carbon neutrality by 2030. This month, Smith will begin work on an innovative geothermal campus energy project that will lower the college's carbon emissions by 90%, allowing the college to reach its goal. Learn more about Smith's distinctive new approach to heating and cooling the campus, and explore the science behind the geothermal energy project.

Beverly Daniel Tatum to Address Graduates

Beverly Daniel Tatum, president emerita of Spelman College and trustee emerita of Smith, will deliver the 2022 Commencement address on Sunday, May 15. Tatum is a psychologist who has authored several influential books about race. Beginning in July, she will serve as the interim president of Mount Holyoke College.

Reimagining America

Just weeks after the release of her latest novel, To Paradise, bestselling author and New York Times editor Hanya Yanagihara '95 sat down with the SAQ to share her inspirations, the questions she asks when writing, what she remembers most from her time at Smith, and how she seemingly does it all.

A Life of Public Service

Rachael Johnson MSW '00—daughter of  Bernette Joshua Johnson, the first African American chief justice of the Louisiana Supreme Court—has been a civil court judge in New Orleans for the past five years. In this article, she talks about her mother's commitment to fairness, equity and justice, and her own path to becoming a judge. "I was raised to serve," she says.

Senior Profile: Sara Halili '22

After growing up in Albania and attending boarding school in Missouri, Sara Halili '22 arrived at Smith. She loves the "small and intimate learning environment" at Smith, and the faculty connections are invaluable: "They've been instrumental to my successes," she says. Now, Smith is a family affair—Sara's sister, Sonora, is a first-year student.
A Return to Hamburg
The 60th anniversary celebration of the Hamburg Study Abroad Program will be celebrated in Hamburg, Germany, on June 16–18. This two-day event will include tours of the city and the harbor, panel discussions, lots of time to catch up with alums from several decades—even a Hamburg-style version of a Smith Friday afternoon tea!
Protecting the Heavens
This article reveals the findings of a paper published in Nature Astronomy, co-authored by Smith astronomy professor James Lowenthal. The report reveals an urgent need to protect Earth's orbital space, which is being congested by hardware that includes tens of thousands of satellites. In addition, streaks from satellite flares are creating light pollution that impairs research, and rocket launches are polluting the atmosphere.
Being A Change Maker
Sybil Steinberg '54 is one of several journalists profiled by Publisher's Weekly as a "change maker." After 20 years as a wife and mother, Steinberg joined Publisher's Weekly full time in 1979. In 1983, she took over their Author Interview section, where she had conversations with high-profile literary figures like John Updike, and later—as fiction editor—she interviewed Salman Rushdie when he was still in hiding.
Amplifying Asian and Asian American Voices
The multipart project "Voices, Visibility and Versatile Artistic Praxis: Asian/Asian Americans at Smith College," a collaboration between Boston-based multimedia artist Yu-Wen Wu and Smith community members, was intended to amplify Asian and Asian American voices at Smith. The project included a talk given by Wu titled "The Space Within: Private and Public Narratives," and culminated in the creation of two artworks.