News for the Smith College Community | May 12, 2022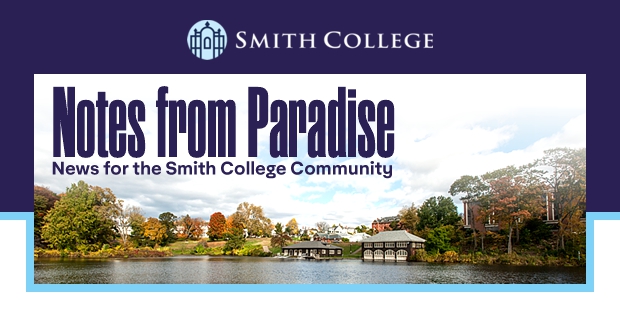 Smith Preps for Commencement and Reunion
The time to celebrate the class of 2022 is almost here! Smith's 144th Commencement will be held on Sunday, May 15. This year's class includes 651 students from 44 states and 30 countries. Education leader and author Beverly Daniel Tatum will deliver the Commencement address. Also on campus this weekend: alums attending their milestone Reunions, and great Smith traditions like the Ivy Day parade and Illumination Night.

Gloria Steinem '56 on Roe v. Wade

NPR's Mary Louise Kelly interviews Gloria Steinem '56 about the news that the U.S. Supreme Court appears likely to overturn Roe v. Wade. "It [feels] both new and angering and ancient," says Steinem. "It's important to connect the ancient to the new because otherwise we don't understand the strong threat of patriarchy and racism that has been with us and continues to be with us."

Being a Woman of Color in Finance

S. Mona Ghosh Sinha '88, founder and CEO of the Insight Circle Fund, is featured in this episode of Our Body Politic about the work she does helping women of color claim their economic power. "Money is a social and geopolitical force. ... Let's face it, people who have money have great influence and have great power," says Sinha.

Finding Answers to Big Questions

In a recently published paper, Lexie Leeser '21 and Smith geosciences professor Sara Pruss present new fossil evidence that suggests colonial animals known as bryozoans appeared about 30 million years earlier than previously reported. In this Q&A, Pruss talks about the discovery and its impact on the field of paleontology.

Senior Profile: Erin Oppel '22

Erin Oppel '22 was set to attend a large university to play basketball, but a knee injury and a conversation with Smith professor Greg White made her rethink her plans. "When I arrived at Smith, I was very shy," she reflects. "I wouldn't feel so ready to take on everything that comes next if I hadn't had so many wonderful professors who care about me and believed in me at Smith."
Smith Alumnae Book Club: A New Story
Beginning May 27, join alums reading The Book of Form and Emptiness, a meditation on sorrow, consumerism and the power of books themselves, by Ruth Ozeki '80. "There's powerful magic here," Judith Shulevitz writes of Ozeki's book in The New York Times review. Join us for the magic, and save the date for a conversation with Ozeki on July 14. The book club is free, and you can participate when it's convenient for you.
Women's Rights—and Lives—At Stake
In this Ms. magazine article, Smith professor Carrie Baker explains why the U.S. Supreme Court draft opinion in favor of overturning Roe v. Wade is so damaging. "Such a terrifying approach could be used to eliminate many of the rights we take for granted today—not only abortion, but contraception and the right to engage in consensual sexual relations. ... Moreover, this position defies over a half a century of jurisprudence recognizing the rights of women, Black and LGBTQ people and others," writes Baker.
Architects As Guardians
For more than 40 years, architect and urban conservationist Brinda Somaya MA '73 "has merged architecture, conservation and social equity in projects ranging from institutional campuses and rehabilitation of an earthquake-torn village to restoration of an 18th-century cathedral, showing that progress and history need not be at odds." In May 2012, Somaya was conferred an honorary doctorate from Smith.
Forging Democratic Citizenship
The Smith College Museum of Art presents Jennifer Chang Crandall's ongoing film, Whitman, Alabama, as one of three recent film and video installations that examine notions of democracy nationally and globally. Crandall is Smith College's Lakes Writer-in-Residence for spring 2022, and says the film is an "experiment in using documentary and poetry to reveal the threads that tie us together—as people, as states and as a nation."