News for the Smith College Community | May 18, 2022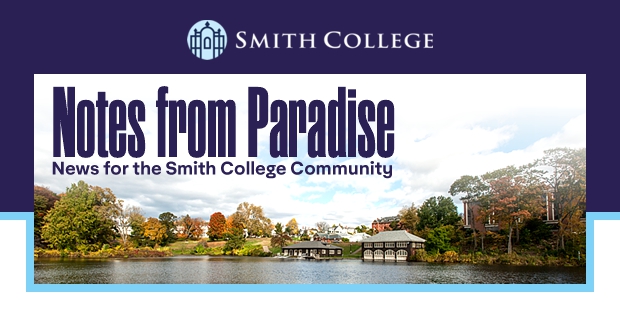 Reunion II Starts Tomorrow

Close to 1,000 alums are expected on campus for Smith's second Reunion weekend, beginning May 19. Events for the 11 milestone Reunion classes include the Alumnae Parade, a special Class of 2020 Candlelighting Ceremony and Ivy Day celebration, Illumination Night, a "Mountain Day" Picnic Lunch—even a Food Truck Fest! Check out the Reunion schedule here.

Another Cog in the Machine

Smith professor Carrie Baker co-authors this New York Times op-ed about the national network of crisis pregnancy centers—dangerous and duplicitious anti-abortion outposts whose goal is to "deter women from getting abortions, often with deceptive practices—and, in some cases, using taxpayer dollars."

Living Without a Self

In this Tricycle Talks podcast, James Shaheen interviews Smith professor Jay Garfield about his new book, Losing Ourselves. They discuss the Buddhist notion of "self" as an illusion, and why belief in a self is what Garfield calls "a recipe for a very narrow kind of egoism; it's a recipe for the idea that ... the first thing I've got to do is to care about myself."

Telling Important Stories

The world premiere of Who Are You, written and performed by Shareen Mitchell '80, began on May 13 and runs through June 19. In this interview, Mitchell talks about her show, her fashion background and the production company she started with her sister. "We both care to tell important stories," says Mitchell.
Register: Smith Alumnae Book Club
On May 27, join other alums as they begin reading The Book of Form and Emptiness, a meditation on sorrow, consumerism and the power of books themselves, by Ruth Ozeki '80. The book club is free, and you can participate when it's convenient for you. And save the date for a conversation with Ozeki on July 14!
Tour the Brown Fine Arts Center
Follow Amelia Burton '23 on a three-minute tour of the Brown Fine Arts Center at Smith, featuring the Smith College Museum of Art, Hillyer Hall, Hillyer Art Library, Oresman Gallery, Graham Hall, the Student Art Gallery and the art classrooms. See what's currently showing at each gallery on the art department's events and exhibitions page.
'Take a Trip to Happy Hippy Lane'
Cary Huggins '86 offers many places to stay on her Westport Island property in Maine. But the most popular? The "Hippy Bus," which Huggins says is "reminiscent of the original hippy bus, Further, which novelist Ken Kesey and his group of 'Merry Pranksters' drove from San Francisco to the World's Fair in New York City in 1964." Huggins is also working to rekindle her Trips for Kids mountain biking program.
Green Space Reduces Stroke Risk
According to a study by Heloise Cheruvalath '20 and co-authors published in the Journal of Patient-Centered Research and Reviews, living in areas with greater green space is linked to a lower risk for stroke. "This is important from a public health perspective," write the authors. "Green space is a readily modifiable environmental factor that should be protected and expanded in the face of relentless urbanization."