News for the Smith College Community | May 25, 2022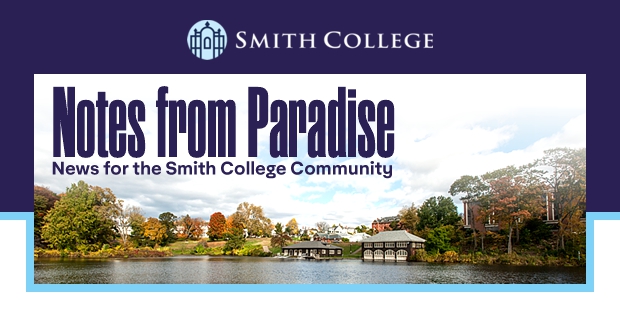 'The Joy of This Moment'
Over 800 alums were on campus this past weekend to celebrate their milestone Reunions. "I can feel the joy of this moment," said President Kathleen McCartney, following the alumnae parade on Saturday morning. "It is powerful, and just what we all need right now." Events included a Friday Faculty Showcase, a state-of-the-college address from President McCartney and a Class of 2020 Celebration, as well as beloved traditions like Illumination Night. (Photo credit: Jim Gipe—Henry Amistadi photos/Pivot Media)

Stay Curious and Keep Learning

In this GoodCourse interview, Smith's Vice President for Equity and Inclusion Floyd Cheung talks about his love of literature and his career in higher education. The advice he would give to someone coming into higher education now? "Stay curious, keep learning and connect with a network of people in your desired field so that you can share resources and lift one another up."

Smith's 2022 Goldwater Scholars

Read about Liam Knight AC '23J and Vivien Qiao '23—this year's recipients of the prestigious Goldwater scholarship, which recognizes outstanding undergraduate students in STEM fields. The scholarship grants winners up to $7,500 for college expenses. This year, it was awarded to only 417 applicants out of a nationwide pool of more than 5,000.

Understanding Our Past

Alexandra Zapruder '91, a specialist on children's diaries written during the Holocaust, talks about antisemitism and the importance of bearing witness. Zapruder says young people have a unique ability to witness and describe, and to reflect on their lives. As a result, "they left records that meaningfully change and shape how we understand this historical past."

A Collective Momentum

In this NEPM article, Dano Weisbord, Smith's associate vice president for campus planning and sustainability, talks about Smith's goal to eliminate the use of fossil fuels and the installation of a new geothermal system. "There is a moral imperative, but also a business case behind this, and we are really open to sharing what we're doing," says Weisbord.
The Power of Intimacy
The Saturday Evening Post recently reprinted this excerpt of a biography published in April 2021 about Nancy Reagan '43. Written by Washington Post columnist Karen Tumulty and tited The Triumph of Nancy Reagan, the book examines the complex relationship between Nancy and Ronald Reagan, and Nancy's role in her husband's presidency. "Nancy exercised an influence unlike any first lady before or since.... Hers was the power that comes with intimacy," writes Tumulty.
Setting the Standard
Sally Brody '54 was recently honored at the 2022 Theatre for a New Audience (TFANA) Spring Gala event in May. She received TFANA's Life in Art Award, which recognizes "the achievements of individuals whose support for the arts has set the standard for leadership and generosity." Brody has been a professional painter for most of her life, and has designed tapestries for IBM and other commercial clients.
'Sailing the Milky Way'
The Literary Titan describes the debut book by Eileen Ferriter AC '90, Sailing the Milky Way, as whimsical and magical. "This imaginative children's book is written to inspire children to dream and create … with phenomenal artwork and a highly original storyline." The Literary Titan is an organization of professional editors, writers and professors who review fiction and nonfiction books in many different genres.
Giving Parents Hope
Over 30 years ago, Lata Nayak MED '91 founded a school in Mumbai, India, for children who are hard of hearing. Today, it is the only school in Mumbai that caters to students with hearing issues combined with other disabilities. One student's mother sings Nayak's praises by saying, "When everyone else had given up, it was only Lata who gave us hope."