News for the Smith College Community | June 8, 2022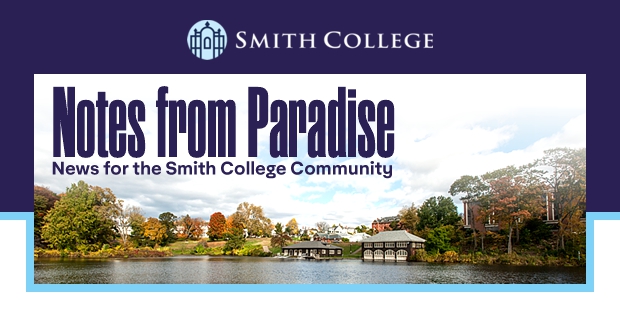 Honoring Retiring Faculty
At a special luncheon last month, nine retiring faculty members were honored for their years of service to Smith. President Kathleen McCartney praised them for their many contributions to the campus community. Longtime faculty members who retired this year include Andrew Zimbalist, professor of economics; Giovanna Bellesia, professor of Italian studies; and Donald Baumer, professor of government.

Preparing for the Show

Ellen Weldon '76—who once got an F in her sixth-grade handwriting class—has been a professional calligrapher for almost 40 years. In this New York Times interview, she talks about making mistakes, crazy mishaps and overcoming failure. "The stakes are high; we deal in perfection. Our work is like preparing for a Broadway show that goes on for only one night," explains Weldon.

Reflections on Reunion 2022

Read this joyous overview of Smith's two Reunion weekends, and get to know a few of the volunteers who helped out. Some events, like Ivy Day, were attended by President Kathleen McCartney, who said nostalgically, "I have missed the beauty of this day—the sight of hundreds of Smithies marching as one in a powerful expression of solidarity, connection and love."

Celebrating Smith Staff

Smith staff do so much to keep the college running like a well-oiled machine. They serve 1.5 million meals, maintain 100 buildings, engage with 53,000 alums around the world and support 2,900 students. The college celebrates all of the dedicated and talented employees who take care of the Smith community. As President Kathleen McCartney has said, "Smith is more than a place to work. At times, it can feel like a family."

Women, Work and Power

A recent panel discussion hosted by the New Museum and New York magazine's The Cut featured Kimberly Drew '12, Isolde Brielmaier and Paola Ramos. These three "trailblazing women" talked about women and leadership, and the pressure to be perfect in the workplace. "I'm trying so hard to be good and succeed in some way, but we're often denied a singular success," said Drew.
Driving Smith—and Smithies—Forward
Smith's fiscal year is coming to a close on June 30, and The Smith Fund needs your support. Please help us empower Smith to educate students of promise for lives of distinction and purpose by making a donation today. Gifts of any size are welcome; alums will automatically receive class credit for their donations.
Feeling Pressed for Time?
Watch this TEDxBoston talk by Dorie Clark '97 about "The real reason you feel so busy (and what to do about it)." Clark is a marketing strategy consultant who teaches at Duke University's Fuqua School of Business and has been named one of the top 50 business thinkers in the world by Thinkers50.
Steinem Receives Honorary Harvard Degree
At Harvard University's 371st Commencement on May 26, writer, political activist and feminist icon Gloria Steinem '56 was one of seven people to receive an honorary degree. Other honorees included Jacinda Ardern, prime minister of New Zealand, and Vicki L. Ruiz, distinguished professor emerita of history and Chicano/Latino studies at the University of California, Irvine.
A Path to Politics
In this article, Margaret Boyle '12 talks about finding her way into politics and her path to becoming the communications director for U.S. Rep. Richard Neal. "No two days are alike, which is what I like about this job," says Boyle. Her father, William J. Boyle, was the first justice of the Springfield (MA) District Court.