News for the Smith College Community | June 22, 2022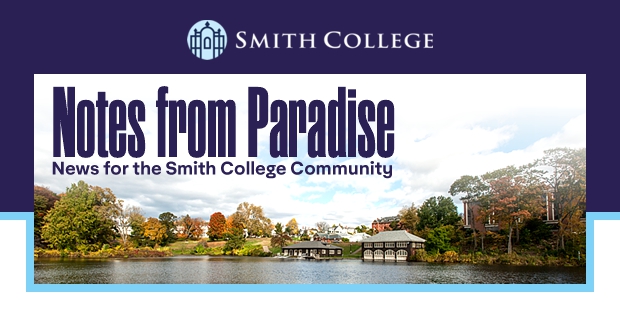 Black Military Women Leading the Charge
This article features 19 courageous Black service members who played vital roles in American history. Among them are Harriet Pickens '30, left, and Frances Wills, who both attended the Naval Reserve Midshipmen's School at Smith College in the 1940s. After graduation, they went on to become the first two female African American officers in the U.S. Navy. (Photo Credit: U.S. National Archives and Records Administration)

Embracing Uncertainty

In this essay, President Kathleen McCartney explores the role of uncertainty in our lives, particularly for the class of 2020, which was sent home during the pandemic and recently invited back to Smith for an in-person Reunion. McCartney writes, "A challenge we all share throughout our lives is to find the courage to embrace uncertainty and to move forward."

Biden Nominates a Smithie

Laura Taylor-Kale '00, Ph.D., has been nominated by President Biden to be assistant secretary of defense for industrial base policy. Taylor-Kale, who has a master's in public affairs from Princeton University and a doctorate in management science and engineering from Stanford University, has had a long and impressive career that includes serving in the Obama-Biden administration.

The Power of the Smith Network

College Magazine has put Smith on its list of the Top 10 Best Colleges for Networking. They write, "In addition to providing higher education for women, this college created an outstanding network of over 48,000 alumnae who help current students network, discover internships and score jobs."

Going Above and Beyond

Debbie Duncan '77 recently received the John M. Greene Award, which is given to those who have rendered service to Smith "beyond the call of duty." In this letter to her, Alison Overseth '80, chair of the Smith College Board of Trustees, praises Duncan for her work as an alumna volunteer, a donor, a trustee and a former chair of the board.
Nancy Reagan '43 Stamp Unveiled
The artwork for a new postage stamp honoring former First Lady Nancy Reagan '43 was unveiled at the White House earlier this month. Born in New York City and raised in Chicago, Nancy married Ronald Reagan in 1952 and was the nation's first lady from 1981 to 1989. Nancy's son, Ron Reagan, said this of his mom: "Her own stamp! I'm sure she never expected to receive an honor like this."
'An Unflappable Force of Calm'
The late Susan Begg '72 is featured in this article by author Keri Blakinger, who tells the poignant but heartwarming story of their friendship. She talks about where she met Begg ("One of the first people I met in jail was a foul-mouthed pagan lesbian named Susan. I liked her from the start."), how Begg eventually lost the battle with her demons ("I found out she'd been struggling with dementia—and drinking") and why she has Begg to thank for her successful career as a writer.
Smithie Wins Guitar Competition
Gretchen Menn '97 recently won the Martin/Guitar World 2022 No Limits Challenge. The competition was a celebration of Martin's SC line of acoustic guitars, and featured eight guitarists facing off against one another. Menn advanced to the finals with her acoustic version of Weezer's "Buddy Holly," and finally triumphed over her fellow finalist with her "gorgeous original acoustic instrumental," titled "Venice."
Smith Dining: A Local Hero
Smith College Dining recently received the 2022 Local Hero Award from CISA—Community Involved in Sustaining Agriculture. CISA's annual award is presented to those who help strengthen farms and engage the community to build the local food economy. "Smith College Dining Services stands out among its peers as a dedicated, creative, problem-solving partner to farms around the region."