News for the Smith College Community | July 6, 2022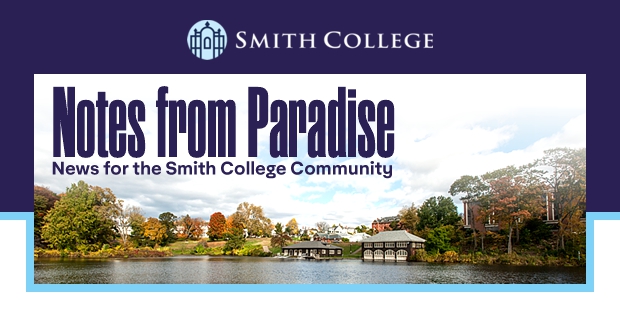 Six College Presidents Stand Together
In this New York Times letter to the editor, President Kathleen McCartney stands with the presidents of five other colleges in a joint response to the Supreme Court's ruling to overturn Roe v. Wade. "We will continue to provide reproductive health care on our campuses, which are situated in states where it is possible to do so," they write. "Still, we want to make clear that we do not believe that the rights of Americans should be limited by geography." Quoting Coretta Scott King, they conclude: "Freedom is never really won. You earn it and win it in every generation."

Addressing the Mental Health Crisis

Schroeder Stribling MSW '92 is the president and CEO of the nonprofit health advocacy organization Mental Health America. In this article, she discusses America's response to the latest mass shootings and how it relates to the stigma around mental illness. "Being motivated by hate or racial hate or political ideology is not a mental health condition, full stop," she says.

Smith's Remarkable Year

Watch this uplifting video, narrated by President Kathleen McCartney, about the remarkable academic year at Smith that recently came to a close. "I am filled with pride for all we shared and accomplished together this year," says McCartney. "Smith is stronger, and our world is better, because of our good work."

'Before and After Roe'

Activist, Black feminist and Smith Professor Loretta J. Ross is one of three women to share their personal stories about abortion with The New York Times. Ross, deemed "The Organizer," along with Susan Bilyeu and Catherine Starr, were all fierce fighters on the front lines of the abortion rights movement, both before Roe v. Wade became law and in the early years after its passage.

The Psychology of Protest

On NPR's All Things Considered, Smith Professor Lauren Duncan explains her theories about why the anti-gun protest movement was so delayed and so small after the recent incidents of gun violence in the United States, compared to the massive and immediate protests launched after the George Floyd killing. Duncan is an expert on the psychology of protest and activism.
Webinar: Ruth Ozeki '80 on Writing
Join us as Ruth Ozeki '80, award-winning author, filmmaker, Zen Buddhist priest and Smith professor of English language and literature, discusses her writing process; how Smith has impacted her life and career; and her new novel, The Book of Form and Emptiness. The novel is Smith's current Alumae Book Club selection.
Incoming Student Receives Scholarship
Una Fonte '26 is one of 15 visually impaired students who recently received a $10,000 scholarship from the Lighthouse Guild, a nonprofit in New York that provides services and scholarships to students who are visually impaired to help them reach their goals. At Smith, Fonte plans to major in environmental studies and policy, but also wants to help pave the way for people just like her.
Smith Rowers Earn National Distinction
Fourteen rowers from the Smith crew team were recently named 2022 National Scholar-Athletes by the Collegiate Rowing Coaches Association. Among other requirements, rowers must have had a 3.5 cumulative GPA or higher for their career. Smith is an NCAA Division III member of the New England Women's and Men's Athletic Conference that sponsors 11 intercollegiate sports.
Blaming the Victim—Again
In this article for Bust magazine, Jade Mosley '25 takes a critical view of New York City Mayor Eric Adams' suggestion that women should stay safe by not being alone on the subway. "Say what, now? ... Asking women to make sure they're always accompanied by a chaperone, or that they travel in pairs, is just demeaning, and, frankly, a lazy solution to crime," Mosley writes.