News for the Smith College Community | August 3, 2022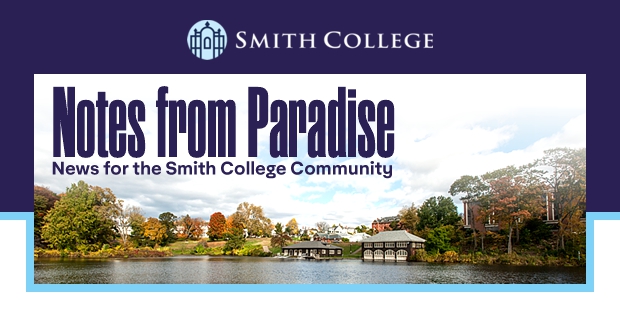 Teaching the Value of Investing
Ka'Neda Bullock '06, founder and president of Master Plan Investment Group based in Pennington, New Jersey, is teaching young people and underserved groups the value of investing. In this interview, she talks about her work with Cool Kids and Womanspace and why she is committed to bringing awareness of financial literacy and investing to all ages and populations. "Everyone's an investor—that's where I start," Bullock says.

Smithie Named Presidential Scholar

Sirohi Kumar '26 was recently named a 2022 U.S. Presidential Scholar. A climate activist and racial justice organizer, Kumar helped pass the Climate Emergency Declaration in her hometown of Bar Harbor, Maine, and was a founding member of a local anti-racism task force. She doesn't know yet what she'll study at Smith, but she plans to be "on the leading edge of something."

Making Waves With Leather

Los Angeles–based designer and stylist Agnes Baddoo '85 is making waves with her high-end handcrafted leather goods. Her products—which range from crossbody bags to iPhone holders—are so sought after that even Thelma Golden '87, director and chief curator of The Studio Museum in Harlem, has one of Baddoo's "sacs" on her wishlist.

Reparation Efforts in the U.S.

April Simpson '06 authors this article about the nationwide struggle to create reparation policies. She notes that efforts are gaining traction in places like California, but they are stalling in Republican-led states. Georgia Sen. Kim Jackson is an advocate of canceling debt for Black farmers, Simpson reports. "We have to take the steps that we can take, which is bringing farmers to parity," says Jackson.

Fighting for Marriage Equality

In the wake of the Supreme Court's decision to overturn Roe v. Wade, Democratic Sen. Tammy Baldwin '84 (D-WI) is now leading the effort to pass a bill that would protect same-sex marriage. Called the Respect for Marriage Act, it would enshrine same-sex and interracial marriage in federal law. In this episode of NPR's Morning Edition, Baldwin explains why the bill's passage is so critical.
Celebrating the Americans With Disabilities Act
Geri Mariano '89 recently spoke at the anniversary celebration of the Americans with Disabilities Act (ADA) in White Plains, New York. Born with diastrophic dysplasia, a form of dwarfism, Mariano has spent more than 20 years as a motivational speaker and is a fierce advocate for the disabled. "I didn't want special favors. I always wanted to prove myself," Mariano says. "The ADA was enacted so I and countless others would have opportunities to give back."
Smith Archivist Earns Recognition
Beth Myers, Smith's director of special collections since 2014, will be inducted as a Fellow of the Society of American Archivists (SAA) at a ceremony later this summer. The distinction of Fellow is the highest honor bestowed on individuals by the SAA and is awarded for outstanding contributions to the archives profession. Since joining Smith, Myers has overseen the merger of three special collections repositories and helped raise more than $4 million to support operations.
Smithie Competes on Jeopardy!
Heather Brown '07 recently competed on the trivia game show Jeopardy! and came in third place. Having completed the first phase of her audition before she got married, Brown was awaiting word of her selection for the second and final phase of the audition while on her honeymoon in Las Vegas: "I had to bring the computer (and) check it obsessively, because I didn't want to miss my audition!"
Read Along With Fellow Alums
Ever dreamt of flying solo around the world? If so, you'll love the next Alumnae Book Club selection, Great Circle by Maggie Shipstead, which was shortlisted for the 2021 Booker Prize. Join us beginning August 5 for some great discussion, including a live talk with the author. The alum book club is free, and you can participate when it is convenient for you.