News for the Smith College Community | August 17, 2022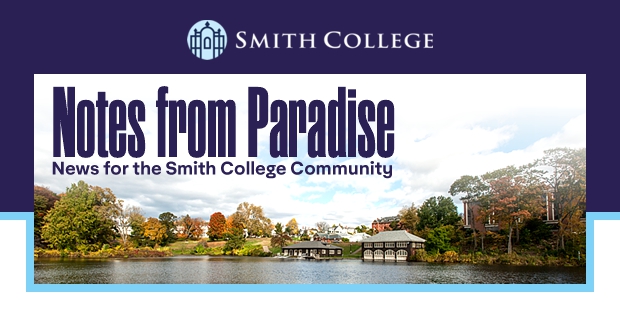 Democracy in Distress
In June, the U.S. Supreme Court ended almost 50 years of federal protection for abortion under Roe v. Wade. In this article from the summer Smith Alumnae Quarterly, Andrea Cooper '83 interviews Candace Gibson '07 from the National Latina Institute for Reproductive Justice and Genevieve Scott '06 from the Center for Reproductive Rights about what may lie ahead. "The inequities will only worsen for many communities that have already been systematically discriminated against in this country," warns Gibson.

Women Trapped in a Cage

Shaharzad Akbar '09 fled Afghanistan over a year ago but remains in touch with many women still there. In an interview, she explains what their lives are like now and the growing mental health crisis. "When I talk to women and girls in Afghanistan today, they say they feel that they are trapped in a cage," says Akbar. "There is a lot of hopelessness."

Capturing Memory Booth Moments

For the Reunion weekends in May, the libraries' learning, research and technology staff set up "Memory Booths" so alums could record their thoughts about the new Neilson Library and their experiences at Smith. The result is this funny, heartwarming video that features alums from classes as recent as 2020 and as long ago as 1947.

Judaism: A Culture of Life and Choice

In this op-ed, Donna Robinson Divine, Morningstar Family Professor of Jewish Studies and professor of government emerita, discusses the issue of abortion through the lens of Judaism. "Jewish teaching recognizes abortion as an intimate practice with profound public consequences. ... Yet [it] also displays sensitivity to the ethical dilemmas surrounding decisions to end pregnancies," writes Divine.

What's Important to Young Voters

Hannah Beck '23 and two co-authors outline the issues most important to young voters, who could play a huge role in shifting swing states in the midterm elections. "Top Takeaways" include: Women's rights are the second most important social issue to young people, and 75% of young Americans say all or nearly all abortions should be legal.
Artists' Evolving Relationship With Their Fans
In light of artists Lizzo and Beyonce recently changing their song lyrics based on audience feedback, the podcast AirTalk talks with Loretta J. Ross, associate professor of the study of women and gender at Smith, and Los Angeles Times pop music critic Mikael Wood about the evolving relationship between artists and their fans.
'Doing the Right Thing'
In this Yale Climate Connections article, Smith's campuswide geo-exchange network is cited as one of several examples of cutting-edge geothermal projects happening across the country. Dano Weisbord, associate vice president for campus planning and sustainability, talks about the project and how it supports Smith's pledge to go carbon neutral by 2030.
Don't Be Afraid To Do Hard Things
Yohanna Romero Baca '97 is interviewed by Authority Magazine about the fear of failure—what she's learned from it, the downsides of it, and five steps for overcoming it. "Trust in your ability to do hard things," she says. "If you have a desire in your heart, it is there for a reason. There is no way you can fail. There are only lessons to be learned along the way."
School for Social Work Commencement Set for Friday
At 4:30 p.m. ET on Friday, August 19, the Smith College School for Social Work will hold its annual Commencement ceremony in John M. Greene Hall. Class speakers will include Mia Mingus, a writer, educator and trainer for transformative justice and disability justice; and Georgette Saad, Ph.D. '20, LICSW, who has provided psychotherapy in a community health center in Washington, D.C., for the past 10 years.