News for the Smith College Community | August 31, 2022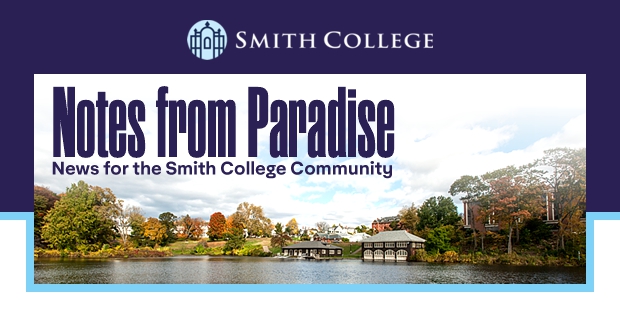 Collecting Black History
Seven years ago, Jannah Handy '08 co-founded BLK MKT Vintage—a Brooklyn-based collectibles shop specializing in artifacts that represent Black history and heritage. In this summer SAQ article, Handy talks about pivoting from investment banker to treasure hunter, opening the store and surviving the pandemic. "The folks in the antiques business tend to be white. … They decide what to collect and what has value," says Handy. "We need more people who look like us who are part of that process."

Rocking—Not Blocking—the Vote

As dozens of states across the country continue to pass laws that restrict voting rights, Smithies like Camille Wimbish '01, Katrina Gamble '99 and Claire Snyder-Hall '86 are fighting back. "Our democracy is in a three-alarm fire," says Wimbish. "We need to wake up and grab a firehose before our house burns down."

Write, Read, Repeat

Last year, award-winning author, filmmaker, Zen Buddhist priest and Smith English professor Ruth Ozeki '80 published The Book of Form and Emptiness, which was awarded the 2022 Women's Prize for Fiction in June and is this year's Smith Reads selection. In this excerpt from a recent webinar, Ozeki discusses the book, her writing process and her Zen Buddhist practice.

Appreciating Friendly Design

Read about Friendly Architecture, an online forum created by Honor Hingston-Cox '04 to celebrate "all of the people-friendly places in the world." The group, which has over 16,000 members, was started to counter Hostile Architecture—an urban design strategy often used to keep people or animals out (think anti-bird spikes on buildings).

Understanding Hoarding Disorder

Randy Frost, Smith's Harold Edward and Elsa Siipola Israel Professor Emeritus of Psychology, co-authors this article about hoarding disorder and how ownership goes awry. "Our research has indicated that the types of things found in the homes of people with hoarding disorder are largely the same as things everyone saves—just more of them."
The Importance of Funding Title X
Clare Coleman '92, head of the National Family Planning & Reproductive Health Association, is interviewed in this NPR podcast about Title X. Created in 1970, the federal program was designed to provide affordable birth control and reproductive health care to people with low incomes. Title X has always been underfunded, says Coleman, but with the latest restrictions on abortion access, money is needed now more than ever.
'Beating the Forces Set On Dividing Us'
Becca Balint '90, a state senator and the first out LGBT+ person to serve as speaker of the Vermont Senate, recently won the state's Democratic primary. Her goal? To become Vermont's first woman representative in Congress. Balint says the story of her grandfather, who was murdered in the Holocaust, has long inspired her political activism: "My whole life I've known that beating the forces set on dividing us takes showing up every chance you get."
Celebrating Black Philanthropy
During August, Arizona State University and the ASU Foundation participated in the global initiative Black Philanthropy Month. The idea came from Kimberly Scott '91, founding director of ASU's Center for Gender Equity in Science and Technology and a professor in the School of Social Transformation. As the foundation's inaugural senior fellow, Scott provides suggestions for how the foundation can best promote diversity, equity, inclusion and justice.
A Self or Not a Self?
In this episode of the Ten Percent Happier podcast with Dan Harris, guest Jay Garfield, Smith's Doris Silbert Professor in the Humanities and Professor of Philosophy, Logic and Buddhist Studies, examines the Buddhist notion that the self is an illusion. "You do exist," he says, "but just not in the way you think you do."