News for the Smith College Community | September 7, 2022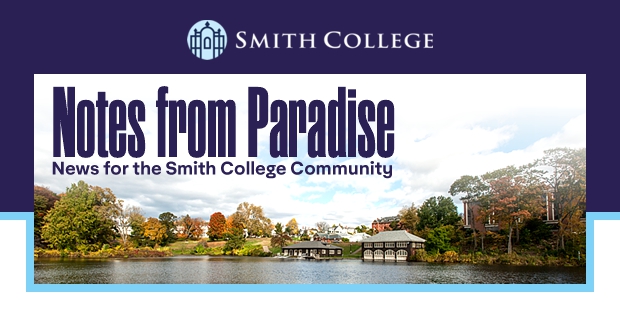 Today: Presidential Colloquium Examines Dobbs Case
Carrie Baker, Loretta J. Ross and Alice Hearst will deliver this year's first presidential colloquium lecture, "An Analysis of the Supreme Court Decision on Dobbs v. Jackson Women's Health Organization," at 5 p.m. ET today in the Campus Center Carroll Room. At Smith, Baker and Ross are professors of the study of women and gender, and Hearst is a professor of government. The lecture will be streamed live on Smith's Facebook page.

Mathematical Mysteries of Paper Folding

In his latest book, Pop-Up Geometry, The Mathematics Behind Pop-Up Cards, Joseph O'Rourke—Spencer T. and Ann W. Olin Professor Emeritus of Computer Science and professor emeritus of mathematics and statistics—reflects on his own decades-long fascination with paper-folding problems. In this interview, he discusses the appealing aspects of his work with pop-ups.

A Small Player in a Big Ocean

As a child, Wendy Schmidt '77 wasn't raised to be curious about the environment. Now a prominent philanthropist, she is helping to address environmental issues like ocean conservation. "It's 71% of the earth's surface," says Schmidt. "We're just a small player here with a really outsized footprint."

New Fund Honors Scholar's Career

Lâle Burk MA '64, a senior lecturer emerita who taught chemistry at Smith for nearly 50 years, is being honored with an endowed scholarship fund in her name. All gifts to the fund will be matched by the Here For Every Voice initiative, which aims to raise $200 million for scholarship aid.

Keeping Secrets

Anastasia Zadeik '85's debut novel, Blurred Fates, explores what happens when secrets are hidden for too long. In this interview with The San Diego Union-Tribune, Zadeik talks about how the story reflects aspects of her own life and her path to becoming an author. "Everyone you meet has something going on in their life that you don't know about," she says.
Smith Ranks High
Washington Monthly recently ranked Smith College No. 13 in their list of the top 20 liberal arts colleges in the country. The magazine started publishing its own college rankings back in 2005 as the "socially conscious alternative" to those published by U.S. News & World Report. According to its editors, "Instead of rating colleges by wealth, fame, and exclusivity, we prize social mobility, public service, and research."
Combating Food Insecurity
A national survey by Wisconsin's HOPE Lab reveals that one in three college students is facing food insecurity nationwide. In this article, Smith is lauded by one student for its dining program, because "there's always a meal available somewhere on campus at any point." Smith also has the Common Goods Resource Center, opened by Carrie Weil '22 and Emma Ryan '22, which offers centralized material and funding resources to students.
More Than Just a Bathroom
When asked to name their favorite museum bathrooms in a recent poll, readers of the Alliance Blog gave those at the Smith College Museum of Art the most votes. One artist-designed restroom was created by Sandy Skoglund '68, who used black-and-white tiles from floor to ceiling to generate "visual sizzle." The other was designed by Ellen Driscoll and features works from the museum's art collection.
Suzanne Palmer—Smith Employee & Sci-Fi Author
Sci-fi author and Linux/database system administrator Suzanne Palmer says working at Smith provides great inspiration for her futuristic fiction. "You make friends with all the scientists and then they want to show you all their cool science-y things," she says. Palmer's works include The Ins and Outs of Intergalactic Diplomacy and The Secret Life of Bots.