News for the Smith College Community | September 14, 2022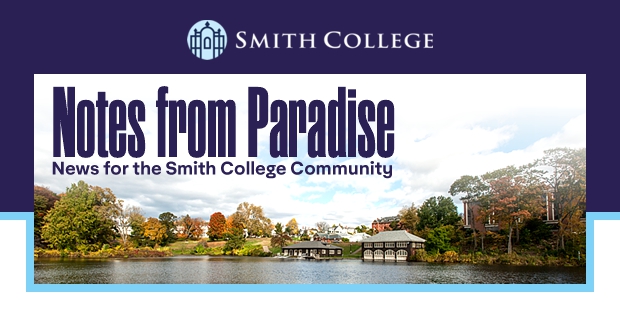 Exploring Equality and Democracy
On Friday, September 16, at 4:30 p.m. ET, Smith will host political activist Gloria Steinem '56, along with Carol Jenkins, president emerita of the ERA Coalition, and Mona Sinha '88, board chair of the ERA Fund for Women's Equality, for a conversation about democracy and the Equal Rights Amendment. The discussion will be moderated by legislative assistant Becca Damante '17 and is available via livestream on Smith's Facebook page.

Meet Some New Smithies!

This fall, Smith welcomed over 600 new students. According to Vice President for Enrollment Joanna May, "The class of 2026 is an extraordinary group of students who were chosen from the largest applicant pool in Smith history." Read about Amina Castronovo '26, Savana Paciulli AC and Mayte Sarmiento '26, and what they're looking forward to.

Supporting Communities

For years the Jandon Center for Community Engagement at Smith has fostered opportunities for students to engage actively with the local community. In this article, Claudia Olson '22 and Asmae Lichir AC talk about their work with the center. "I've always loved community service," says Lichir. "That's what Smith is all about."

Honoring Black Mathematicians

Candice Price, associate professor of mathematics and statistics at Smith, is one of four Black women to share the 2022 Presidential Recognition Award from the Association for Women in Mathematics. The four received the award for their creation of the Mathematically Gifted and Black website, which highlights the contributions and lives of almost 200 Black mathematicians.

On Being a Poet and an Intern

In this interview, Amelia Burton '23 talks about poetry and her summer internship experience at Perugia Press. Her work with Perugia was sponsored by Smith's Praxis program, which provides about 400 students a year with stipends to work unpaid internships in the United States and abroad. Burton is a senior majoring in English.
Register: Leadership Lab With Jamie Lee '04
On September 28 at 2 p.m. ET, the Smith Business Network is offering a virtual workshop for Smithies who want to grow their leadership skills and accelerate their career advancement. Executive coach Jamie Lee '04, who specializes in helping smart people who hate office politics get promoted into leadership positions, will kick off the session with a brief training on five key communication practices for effective leadership.
History From the Muslim Perspective
In this Muslim Times interview, Suleiman Ali Mourad, Myra M. Sampson Professor of Religion at Smith, talks about the Crusades from the Muslim perspective and why that diverges so greatly from the Christian perspective. "If we wrote the history of the Crusades based on Islamic narratives, it would be a completely different story altogether," says Mourad.
Interning in Public Service
Mia Hwang AC was recently a 2022 Public Service Intern for CAPAL—the Conference on Asian Pacific American Leadership. CAPAL internships provide students with public service experience in a variety of topics and areas. Hwang is a strong advocate for social justice, cultural representation and equity in education systems, and was an Alliance for Justice and Equity Fellow at Smith.
Putting Your Garden to Bed for the Winter
What can you do this fall to help your garden thrive next spring? Jacqueline Murphy '86, a horticulturist and garden writer, provides important September gardening tips and advice. "Whether your garden consists of a window box or two or a spacious yard, there is work to be done yet," she says.