News for the Smith College Community | September 21, 2022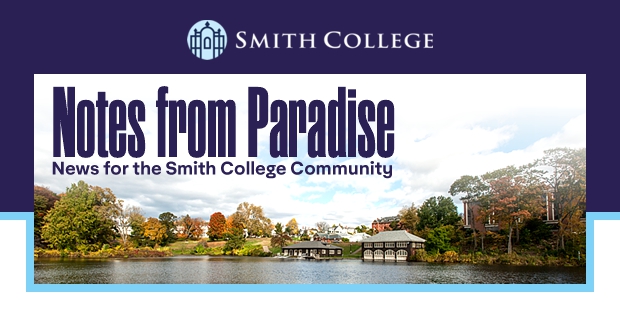 Introducing Smith's 12th President
Smith's Board of Trustees recently named Sarah Willie-LeBreton as the 12th president of the college. A sociologist who studies social inequality and race and ethnicity, she is currently serving as provost and dean of the faculty at Swarthmore College. Of her appointment, Willie-LeBreton says, "I am thrilled to be joining the Smith community. The commitment of extraordinary educators on the faculty and staff, passionate and curious students, devoted alums and generous trustees and friends offer models of scholarship, engagement, leadership and philanthropy that inspire me."

Presidential Colloquium to Explore Poet Emily Dickinson

On Thursday, Sept. 29, at 5 p.m. ET, join the conversation between Pulitzer Prize–winning poet Jericho Brown and playwright Alena Smith, creator of the Dickinson series on Apple TV+, about poet and Amherst native Emily Dickinson. For a sneak peek, read this interview with Brown about poetry, podcasting and Dickinson's lasting influence.

Meet Smith's New Faculty

Smith added 10 new tenure-track professors to its faculty this year. Among them are assistant professors Theresa Brock (French studies), Pun Winichakul (economics) and Monica Lopez Orozco (theatre). Orozco, pictured here, has appeared in numerous commercials and on television in various episodes of Chicago Med (NBC) and Soundtrack (Netflix).

'Humanizing a Critical Industry'

In a recent interview, Twitter's director of health client solutions, Lisa Bookwalter '95, talks about how she got into the health care industry and what's exciting about it. "I believe the people who will ultimately cure cancer are working in the space right now, and they will be alive to see it. It's a thrilling industry in which to work," she says.

Believing in Curiosity

Lule Demmissie '96, CEO of the investment platform eToro, is featured in this Investopedia podcast about the stock and crypto markets and the downturn in trading. When talking about her upbringing and how she got to the place she is today, Demmissie says, "My family believed in education. They believed in curiosity. My dinner table was full of debate."
A Call to Smith Alums: Complete This Fun Survey
This semester, Phoebe Kallaher '25 will be hosting a show on WOZQ, Smith's radio station, featuring the music and artists that alums listened to back when they were students. What tunes should she play? Kallaher wants to know! Fill out this Google survey and tell her the songs you remember from your days at Smith.
Designing for Living Things
After becoming fascinated by beavers while quarantining in New Hampshire during the pandemic, former Smith design lecturer Rosa Weinberg was inspired to see how her students could help improve beavers' lives. The result was her course Architectural Design Studio: Overlapping Spaces, in which students planned and built prototypes of various devices to improve the ways in which beavers and humans can coexist in overlapping ecosystems.
Shattering Disparities
Anaiis Cisco, assistant professor of film and media studies at Smith, is one of two California State University graduates featured in this Where Are They Now? series. Of her role at Smith, Cisco says, "Women and nonbinary people do not occupy a huge percentage of behind-the-scenes positions in the film and television industry, and I want to be a part of this move toward shattering this disparity."