News for the Smith College Community | October 5, 2022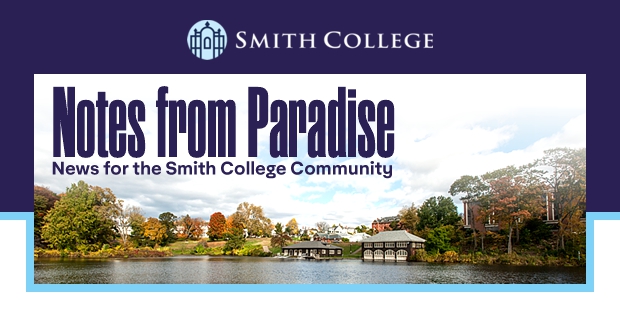 Smith Honors Steinem With Endowed Chair
Thanks to a recent anonymous gift of $3 million, Smith is establishing the Gloria Steinem '56 Endowed Chair in the Study of Women and Gender, in honor of Steinem's work as a leader in the movement for women's rights. Of Smith's decision to create this position, President McCartney said, "All of us have been touched by Gloria's remarkable accomplishments throughout her life. We cannot speak of women's history, women's progress, or women's equality without acknowledging Gloria's work."

Celebrating Mountain Day 2022

Students were thrilled when, on Wednesday, September 28, the college bells rang out early in the morning, signaling the arrival of Mountain Day, an annual fall tradition and surprise break from classes at Smith. This eagerly awaited holiday began with free donuts and cider at the President's House. The college also offered buses to two local apple orchards.

Climate From a Bird's-Eye View

Over the summer, MIT doctoral student Annick Dewald '18 and her team of 15 interns from across the country built a 90-foot wingspan solar-powered unmanned aircraft that will perform climate science research. Called Dawn One, the plane was developed by Electra, an aerospace company whose mission is to decarbonize aviation. Watch a cool video of the plane's first flight here.

Ensuring a Safe Education for All

Alliyah Logan '25, a Smith Posse scholar, is the first guest speaker at this United Nations Foundation session on Gender Transformative Education. Logan is a youth advocate who focuses on education equity, and the founder of Cultivate Global Education, which ensures that girls around the world have access to a safe and equitable education.

The Surprise of a Neon-Pink Bikini

In this Insider essay, Jess DeCourcy Hinds '00 (left) shares a personal story about going on a family beach trip with Stefanie, her husband who came out as trans and is now her wife, and why Hinds was surprised to find a neon-pink bikini among the diapers and toys in their suitcase. She writes, "A door opened to my wife's past, and I gained a new understanding of her."
Recipe: Sweet and Spicy Pork Kabobs
Check out this Better Homes & Gardens recipe from Danielle Centoni '97 for sweet and spicy pork kabobs. Centoni, a food writer and recipe developer based in Oregon, has written six cookbooks and has over 20 years of experience as a food journalist. She's also received the James Beard Journalism Award.
What Partnership Means
In this Cloud Wars Live interview with Samantha Earp, Smith's chief information officer and vice president for information technology, she talks about her background as a linguist, the importance of communication, her thoughts on leadership and how that all comes together in her role as the head of Smith's central IT organization.
The Rise of College Esports
Johanna Brewer, assistant professor of computer science at Smith, is interviewed by KQED, San Francisco's National Public Radio station, about the rise of collegiate esports. Brewer is also the director of research at AnyKey, a nonprofit that advocates for diversity, inclusion and equity in competitive gaming and live streaming.
Alumnae Directory Pivots to The Network
Long used as a resource for building connections, Smith's Alumnae Directory is now The Network! On the web it has a new look, is fully accessible and offers more user-friendly navigation. On mobile devices it's available as a downloadable app via the Apple App Store or Google Play store. Check out the FAQ for answers to common questions about the new and improved directory and the app, and visit The Network to connect with alums and ensure your information—including privacy settings—is up to date.