News for the Smith College Community | October 12, 2022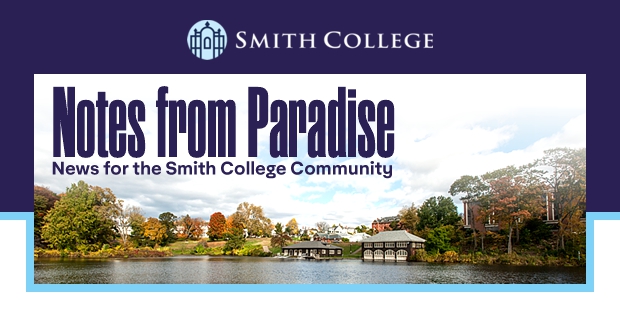 Digging In: Smith's New Geothermal Project
Shortly after Commencement in May, construction on campus for Smith's geothermal energy project picked up steam, with crews installing distribution pipes that will provide heating and cooling to buildings from the new energy plant. Read about what's planned for 2022–23 and how Smith is on its way to reaching carbon neutrality by 2030.

Empowering Women Worldwide

Author, editor and publisher Roxanne Bland '82 was recently chosen to receive the 2022 Empowered Woman of the Year Award by the International Association of Top Professionals (IAOTP). Stephanie Cirami, president of IAOTP, says Bland provides visionary leadership and that "her extraordinary accomplishments prove she will empower women worldwide."

'The Feminine Mystique on Acid'

The film Don't Worry Darling, which opened in September and is loosely based on The Feminine Mystique by Betty Friedan '42, is reviewed in this Smithsonian Magazine article. Friedan's book was instrumental in shining a light on the collective feeling of dissatisfaction experienced by many women in the '50s and '60s and is credited with igniting second-wave feminism.

Smithie Postdoc Fellow Writes a Book

This fall, China Sajadian '08 began a two-year position as the Eveillard Postdoctoral Fellow in the Smith Department of Anthropology, during which she plans to turn her study of Syrian refugees into a book. In this interview, she talks about her dissertation research and her experience as a CUNY grad student.

Attending the 'School of Hard Knocks'

Among these entries from readers of The Sun about "learning the hard way" is a story by Mary Cowhey AC '97, who details the challenges she faced growing up and as a single mother trying to go back to college. "I took [my son] to day care on my bicycle—until it was stolen. Then I pushed him there in a stroller—until the front wheel broke. Finally, ... I pulled him on a sled," she writes.
Queer People of Color in Television
Remember Callie from Grey's Anatomy and Santana from Glee? Take a trip down memory lane in this article by Becca Damante '17 about queer TV characters of color we've loved over the past 10 years. Callie Torres, played by Sara Ramirez, is still the longest-running LGBTQ+ character in TV history, and Michaela Jae Rodriguez, who played Blanca Evangelista in Pose, was the first out trans person to be nominated for an Emmy in a lead acting category.
A New Space for Physical and Mental Wellness
In September, Emily Mailloux '11 opened Commonwealth Strength, a training gym and movement lab located in downtown Sunderland, Massachusetts. Mailloux started her business as a virtual-only training program during the pandemic, but after two years of instructing people through a screen, she decided it was time to open a brick-and-mortar studio space.
Sailing the Milky Way
The children's coloring book Sailing the Milky Way: A Passport to the Unimagined by Eileen Ferriter AC '90 will be featured at the New York Library Association 2022 Annual Conference and Trade Show on November 3–4 in Saratoga Springs, New York. The story is described as "a wonderful journey for children and their parents, one that will hopefully instill a lifelong love of learning and sense of wonder."
Jewish Studies Professor Wins Award
Justin Cammy, professor of Jewish studies and of world literatures at Smith, recently received the 2022 Canadian Jewish Literary Award for From the Vilna Ghetto to Nuremberg. The book is a full English translation of a Yiddish memoir by Abraham Sutzkever about the two years he spent in the Vilna Ghetto in Lithuania during World War II.