News for the Smith College Community | October 19, 2022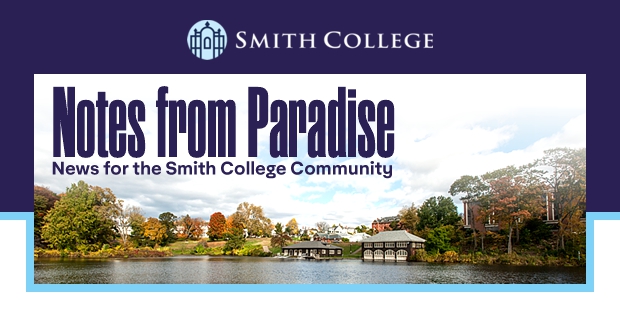 Loretta Ross Named MacArthur Fellow
Loretta Ross, a longtime reproductive justice and human rights advocate and associate professor for the study of women and gender at Smith, was recently named a 2022 MacArthur Fellow for exceptional originality and dedication in her creative pursuits. Of Ross' fellowship award, Smith College President Kathleen McCartney says, "The Smith community is immensely proud of Loretta and her work, which encourages us to think in new ways about how we define and confront injustice."

Teaching Students How To Do Nothing

Constance Kassor '05, an associate professor at Lawrence University, recently created a class called How To Do Nothing—and it's become a huge hit. Kassor says the course's popularity reflects college students' growing challenges with mental health problems and increased connectivity. In this Time interview, Kassor talks about what her course teaches and why it's so important.

Giving Patients a Voice

Marcella Galdamez '16 grew up in Los Angeles and studied biomedical engineering at Smith. Now, she's one of over 50 medical interpreters at JPS Health Network in Fort Worth, Texas. Her work as a Spanish/English interpreter is critical for patients who don't speak fluent English and can improve clinical care. "They feel like there's a voice that understands them," says Galdamez. (Photo credit: Alexis Allison, Fort Worth Report)

Raising the Stakes

Carrie N. Baker, professor of the study of women and gender at Smith, is featured in this episode of NPR's Marketplace. Her research helped inform the law recently passed in Massachusetts requiring the state's public colleges to provide access to abortion medication. "This is raising the stakes on private colleges," says Baker.

The Miracle of Finding Joy

The late Joan Mitchell '46 is featured in this Vogue article about a new installation at the Louis Vuitton Foundation in Paris. The exhibit is a juxtaposition of Mitchell's art against the works of Claude Monet. According to Suzanne Pagé, the foundation's artistic director, Mitchell "pulled herself out from these situations of distress ... [and] managed to find joy where there was none. It was a miracle."
Smith Alum Joins Planned Parenthood Group as CEO
Judith Selzer '99 was recently named the president and CEO of Planned Parenthood of Northern New England. Before working with Planned Parenthood, Selzer co-founded the Women's Foundation of Florida, whose mission is to "empower women and girls to be leaders, so they can change the world."
Fighting for the ERA and Democracy
Phoebe Kolbert '24 and Hannah Phelps '23 co-author this Ms. magazine article about the panel recently held at Smith, during which activists Gloria Steinem '56, Mona Ghosh Sinha '88 and Carol Jenkins discussed the Equal Rights Amendment and its relationship with democracy. According to Sinha, "There can be no democracy without equal rights. It's the very fundamental definition of democracy."
'Her Work Makes Painting Make Sense'
A 21-year survey of the work of painter Rebecca Morris '91, titled Rebecca Morris: 2001–2022, opened on October 1 as a new exhibition at the Institute of Contemporary Art in Los Angeles. Read this descriptive analysis of Morris' paintings by fellow artist and writer Keith Tolch. "Her work makes painting make sense … if that makes sense," he writes.
Webinar: Your Body is Magic!
Personal trainer, yoga teacher, energy healer and author Mel Gutierrez '03, aka the Body Witch, will show you how to maintain your invaluable connection to your body's wisdom through movement. Join this webinar to have fun, reconnect to your power and learn tools to release stress.