News for the Smith College Community | October 26, 2022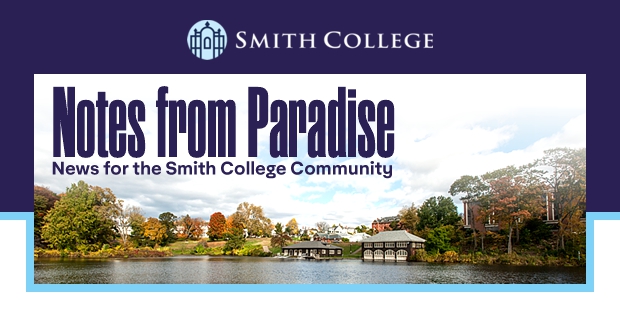 Equality Now Appoints New Executive Leader
Award-winning gender equality advocate S. Mona Ghosh Sinha '88 was recently named the next global executive director of Equality Now, which seeks to achieve legal and systemic change that addresses violence and discrimination against women and girls around the world. The Equality Now board of directors said of her appointment, "We saw in Mona an outstanding leader, a passion and deep-rooted commitment to the cause of Equality Now. ... She was destined for this role."

Doing Difficult and Vital Work

Jane Lakes Harman '66 is the new chair of the board of trustees for Freedom House, a nongovernmental, bipartisan organization committed to promoting peace and democracy around the world. Outgoing board chair Michael Chertoff describes Harman as "an outstanding leader who is uniquely qualified to help guide Freedom House's difficult and vital work."

Coming Up: Family Weekend at Smith

Parents, families and friends of Smith students are invited to campus for this special fall weekend, beginning Friday, October 28, and running through Sunday, October 30. Get a taste of life on campus and attend special events like Friday afternoon tea, apple cider pressing, a reception with President Kathleen McCartney, Sunday brunch and more.

Killing the First-Year Ivy

Rachael Hagerstrom '02 reflects on Smith's tradition of giving ivy plants to first-years: "The memory of killing the first-year ivy is nearly universal," she writes. "Some people named theirs, which made it worse," recalls Linnea Duley '16. To ease the angst for students, the botanic garden did away with tradition. It still provides over 1,000 plants to first-years, but now, not one of them is a difficult ivy!

Getting Control of Your Time

Never have enough time to get it all done? Join the club! In this podcast hosted by Linda Nazareth, Sabina Nawaz '88, a global CEO coach, leadership speaker and writer, talks about how to let go of "magical thinking" and figure out how to get control of your time, including tips for how to set realistic goals and actually accomplish them.
Understanding the Label
In honor of Dyslexia Month, Elizabeth Schwan-Rosenwald '02 tells her own story of living with dyslexia—from being diagnosed at age 11 up through adulthood. "I had a label, and I had an understanding that the label should be fixed, was shameful and unless ignored would keep me from succeeding," she writes.
The Dreams of a Writer
In a recent interview, Margot Atwell '05, executive director and publisher of Feminist Press, talks about her background, what she's doing at Feminist Press and the difficulties writers face getting published. "When the dreams of a writer ... crash against the realities of a business such as book publishing, it can be a recipe for disillusionment and disappointment," says Atwell.
Never Seeing Yourself on BookTok
Maya Bonner '18 is interviewed about a new feature of BookTok (TikTok's community for readers) that lets users link books directly in the app. However, it only links to books published by Penguin Random House, which has been criticized for its lack of diverse authors and published works. Bonner, a Black BookToker, explains why she is reluctant to use it: "When [the big books] are all by the same author, or the same straight, white people, it gets tiresome never to see yourself."
Webinar: Polishing Your Personal Pitch
On November 2 at 1p.m. ET, actor, musician and embodied voice coach Emily Jeanne Brown '11 will run a 90-minute workshop in which she shares preparation strategies for delivering your personal pitch with creativity and intention. You'll leave with a reenergized pitch you can use in social or professional settings with confidence and ease.