News for the Smith College Community | November 2, 2022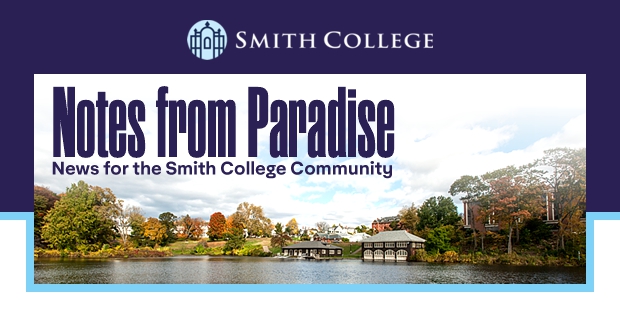 Disney's Queen: Christine McCarthy '77

In the latest issue of the Smith Alumnae Quarterly, Christine McCarthy '77, Disney's chief financial officer, talks about her heroes, her struggles and fighting for what she's worth. "You don't win anything by waiting for things to just come along," she says.

Letting Go of Self-Doubt

Caren Byrd '68 recently celebrated 50 years with Morgan Stanley. In this interview with Wharton Magazine, she discusses what's changed, how she defines success, the loss of her husband and her advice for her children. "Have confidence in your judgment. Don't let self-doubt get in the way," says Byrd.

Putting Trauma Into Perspective

Read about Joemy Ito-Gates '03 and her work as an ethnic studies teacher in Berkeley, California. A second-generation immigrant of Japanese descent, Ito-Gates credits Smith with providing her first in-depth exposure to Asian American history. "Learning that history snapped so much of my family's trauma into perspective," she says.

Coming Up: 2022 Fall Mum Show

Running November 5–20, the Fall Mum Show kicks off with a lecture on November 4 by Margaret M. Bruchac AC '99 titled "Walk With the Indian Doctress," in which she'll discuss her research on Native medicine. The lecture will be in the Campus Center's Carroll Room and livestreamed on the botanic garden's Facebook page.
'Never Close Enough to Fight Without Fear'
Check out the poem "My Closeness" by Elisabeth Paulk '26, recently published in the Baltimore Beat, which is running poems from young writers in the group Writers in Baltimore Schools. Paulk is an alum of Baltimore Polytechnic Institute and a first-year student at Smith.
A Love Letter to Alums
Nearly a century after it was built, the Alumnae House is being renovated. According to Beth Balmuth Raffeld, senior vice president for alumnae relations and development, "The renovation is a love letter to our alums, inviting their presence on our campus."
Trans Candidates on November Ballots
In a year that's had a record number of anti-LGBTQ state bills, Becca Damante '17 highlights eight trans women running for state legislatures across the country. One of them is Sarah McBride, the first openly transgender state senator in the country.
Webinar: 'Data Cartels' Book Event
On November 18, CUNY law professor Sarah Lamdan will discuss her new book, Data Cartels: The Companies that Monopolize and Control our Information, which explores the unregulated power of data analytics companies. The webinar is being sponsored by several Smith departments; to attend, register here.