News for the Smith College Community | November 9, 2022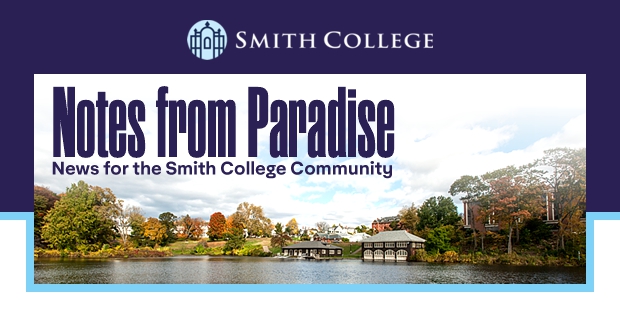 Teaching Lessons: Sherrerd Award Honorees
This year's Sherrerd Teaching Award recipients—Jeffrey Ahlman, associate professor of history; Samuel Ng, assistant professor of Africana studies; and Candice Price, associate professor of mathematics and statistics—share insights about their work, their love of teaching and the lessons they learn from students every day. "I stress that mistakes and missteps are not only acceptable, but critical for learning," says Ng.

Coming Up: Cromwell Day

On November 15, the Smith community will come together for Cromwell Day, which honors Otelia Cromwell 1900 and her niece, Adelaide Cromwell 1940. In this interview, keynote speaker Crystal Fleming, professor of sociology and Africana studies at SUNY Stony Brook, talks about racism and what gives her hope.

Standing Up for Trans Youth

Transgender kids in America are being attacked by a barrage of new legislation that targets them in schools, in sports, even in bathrooms. This article in the fall SAQ highlights how Smithies like Cathryn Oakley '05, Cas Martin '19, Deborah Archer '93 and Sebastian Barr '10 are standing up and fighting back.

Nurturing Future Leaders

Jahleese Hadley '10 was recently honored at the 25th anniversary celebration of the Student Leadership Network. In this video interview, she discusses attending the Young Women's Leadership School 22 yeas ago and her work as director of college access at GLOW, an all-girls public charter school.

The Joys of Learning a New Language

Mary-Kate Wilson '25 joined teammates Anaan Choudhury '24 and Clara Garvey '24 at the U.S. Universities Arabic Debate Championship, held at Stanford University last month. In this interview, Wilson, who took third place in the "Arabic as a Foreign Language" category, talks about the joys of learning a new language.
Affirmative Action Under Threat
The Supreme Court seems ready to rule against affirmative action in two cases—one from Harvard and the other from UNC-Chapel Hill—despite the submission of an amicus curiae brief written by Smith College, Tufts University and 31 other colleges in support of keeping an applicant's race as a factor in college admissions practices.
Why We Are Not Sh*tty Parents
Do you suffer from "Sh*tty Parent Syndrome"? Fear not! Bestselling author Carla Naumburg M.S.W. '03 is here to help with her latest book, You Are Not a Sh*tty Parent. In this interview, she explains why she wrote the book and how to shift that destructive parenting mindset.
Images From Outer Space
In this podcast on WHMP Radio, Smith astronomy professor Kimberly Ward-Duong shares the latest information about images from the James Webb Space Telescope and her work with the telescope's early release science team.
Building the Quabbin Reservoir
Read about the new book by Elena Palladino, Smith's secretary of the board of trustees and secretary of the college. Titled Lost Towns of the Swift River Valley: Drowned by the Quabbin, it tells the story of the Quabbin Reservoir and what it was like for those who had to leave Swift River Valley to make room for the new reservoir.