News for the Smith College Community | November 16, 2022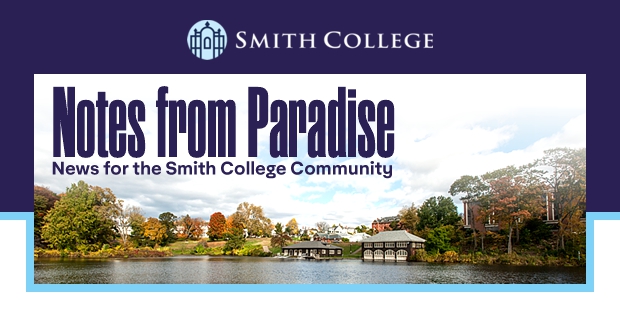 Vermont Smithie Heads to Congress

Becca Balint '90 will become the first woman and the first openly gay person to represent Vermont in Congress after recently winning the election for the state's one House seat. In this Vermont Public podcast, she talks about her campaign and what it feels like to win.

Reaching Underserved Students

In this episode of Fierce Education, Nolvia Delgado '11, executive director of the Kaplan Educational Foundation, discusses how to better reach underserved students. Delgado was recently named to Crain's New York Business prestigious "40 Under 40" list.

To Be Black and Queer

A new exhibition by Naima Green, Smith's Harnish Visiting Artist, recently opened at the Virginia Commonwealth University Institute for Contemporary Art. Titled I Keep Missing My Water, it continues Green's ongoing investment in "documenting intimacy within Black and queer communities."

'A Beautiful, Thoughtful Project'

Smith's Neilson Library recently won the Health & Wellness Award at the 2022 Green Building Showcase held in Allston, Massachusetts. "The library is a beautiful, thoughtful project with aggressive sustainability goals that seem to have largely been met," said the judges.
Call for Submissions: Amplify Public Art Competition
Submissions for Smith's Amplify Public Art Competition are being accepted until November 21. This year's public art category is a call for a temporary public art project to be displayed around the geothermal construction sites to put student voices in conversation with the geothermal campus energy project.
Valuing African American History
Thanks to the efforts of Esosa Osayamen '17, a plaque was recently installed in Florence, Massachusetts, to recognize the Hill-Ross Homestead as an important stop on the Underground Railroad for Black people fleeing slavery.
Loretta Ross Honored by Women's Media Center
On Thursday, November 17, the 2022 Women's Media Awards, held in New York City, will honor Loretta Ross, associate professor of the study of women and gender at Smith; she is among seven honorees. The Women's Media Center is an inclusive feminist nonprofit organization that works to make women and girls visible and powerful in the media.
Wanted: Nominations for Speakers & Honorary Degrees
Now is the time to submit your nomination for Commencement speakers and honorary degree recipients! Any member of the Smith community—students, faculty, staff, alums, trustees—may nominate an individual.