News for the Smith College Community | November 30, 2022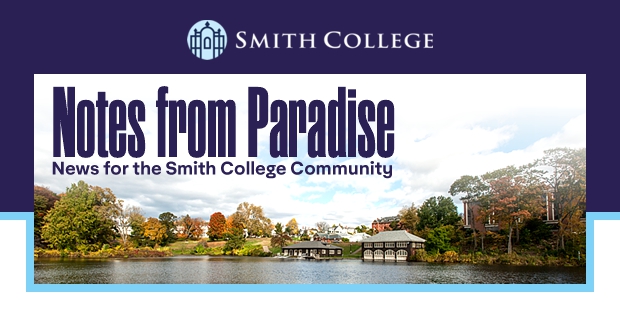 The Power of Authentic Stories

In this TEDx talk by Ruth Tekleab Mekbib '19, founder and host of the podcast Internationalie by Ruth, she talks about how sharing our authentic stories and experiences can teach us to be vulnerable and more compassionate with each other.

Having a Lasting Impact

Smith's Campus Center will soon become the Julia McWilliams Child Campus Center in honor of famed chef Julia Child '34. Of the dedication, President Kathleen McCartney said, "Smith is honored to recognize not only Julia's generosity and lasting impact on the college, but also her impact on American culture and beyond."

Protecting Gay Marriage

In this CNN interview, Sen. Tammy Baldwin '84, D-Wisc., the first openly gay U.S. senator, discusses two pivotal moments in the passage of the Respect for Marriage Act—a bill providing federal protection for same-sex marriage that was approved by the Senate yesterday.

Navigating the World of Tweens

Social scientist Claire Nader '50 recently published You Are Your Own Best Teacher! Sparking the Curiosity, Imagination and Intellect of Tweens. Her book offers a wealth of information to help youngsters ages 9–12 educate themselves and navigate their adolescent years.
Remembering Emily
Former Today host Katie Couric authors this tribute to her sister, Emily Couric '69, who died of pancreatic cancer 21 years ago. "There are countless things that come to mind when I think about my sister—and so many ways she is missed," writes Katie.
Cromwell Day: Making Uneven Progress
On November 15, the Smith community gathered for Cromwell Day to honor the legacies of Otelia Cromwell 1900 and her niece, Adelaide Cromwell 1940. In this compelling video, faculty, students and alums tell the story of Smith's uneven progress toward inclusion, equity and belonging.
Webinar: The Smithie Who Took Down a Mobster
Join Stephen L. Carter on December 6 for a live conversation about his book, Invisible: The Forgotten Story of the Black Woman Lawyer Who Took Down America's Most Powerful Mobster, the true story of Eunice Hunton Carter 1921. The author will be joined by his daughter, Leah Carter, who researched the book.
Mixing Laughter With Grief
Author and dance critic Brian Siebert writes this New York Times review of the dance "Mourning After Mornings" by Vanessa Anspaugh MFA '08, which recently debuted at New York Live Arts. The work "discovers and develops its own odd logic, creating a novel ritual of mourning that encompasses laughter along with grief," Siebert writes.