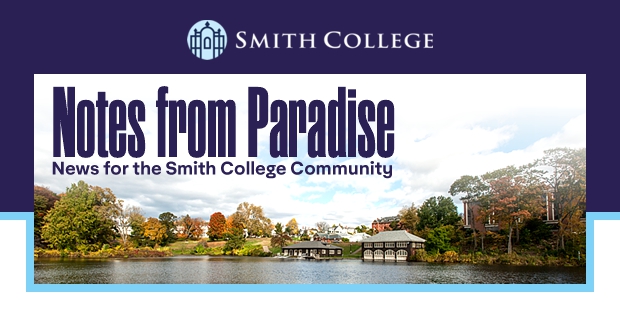 All That Makes Smith Bright and Bold
President Kathleen McCartney shares this holiday video—an end-of-year message from her and her husband, Bill, to the Smith community. "Together we are a community of dreamers who work to make the world a better place," says McCartney. "Let us revel in all that makes us bright and bold."

Literary Critic Extraordinaire

In this article, Michael Gorra, the Mary Augusta Jordan Professor of English Language & Literature at Smith and literary critic for The New York Review, discusses his career, why he thinks Virginia Woolf is a "supreme critic" and the importance of a writer's ethical intentions.

Gingerbread Skyscrapers

Check out the impressive edible towers built by Smithies for the second annual Gingerbread Skyscraper Competition. Structures were judged by the engineering faculty, and awards were given for the best theme, most innovative, best overall execution and the tallest.

The Decarbonization of Smith

Read about Smith's geothermal energy project as a case study for Net Zero on Campus, an initiative that "aims to facilitate the sharing of lessons and resources to accelerate the decarbonization of college and university campuses around the world."

Chocolate From Smith's Greenhouse

Smith botanic garden staff and student interns recently made chocolate using pods from the Lyman Conservatory's cacao tree. Botanic Garden Director Tim Johnson says the staff are always trying to build an appreciation for plants: "It's really easy to forget, we can't do anything without plants."
A Thrilling and Terrifying Tale
Filmmaker Maya Deren M.A. '39 is the subject of this New Yorker article written by movie-listings editor Richard Brody. A new biography about Deren was recently published by Mark Alice Durant, which Brody describes as both thrilling and terrifying.
From Honduras to Connecticut
Fany DeJesús Hannon AC '05 was recently appointed interim dean of students at the University of Connecticut. For the past 10 years she's been the director of UConn's Puerto Rican/Latin American Cultural Center. Hannon moved to the States from Honduras when she was 20, unable to speak or write in English.
Bringing the Nation Together
Check out A Question of Respect, by Democratic pollster and political strategist Celinda Lake '75 and her Republican counterpart Ed Goeas. The book provides an understanding of how America has become so polarized and where we go from here.
What's Your New Year's Resolution?
Want to read more great books in 2023? Join the Smith Alum Book Club on January 6 to begin reading our first book of the new year, The Reading List by Sara Nisha Adams, described by Newsweek as "a quietly beautiful novel about the magic of books and the joy of human connection." Adams will give a virtual author talk on March 2.