News for the Smith College Community | January 11, 2023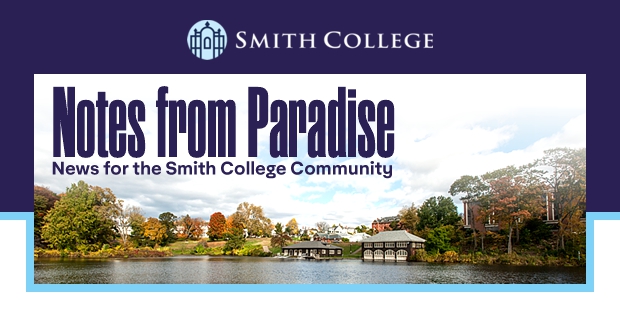 Celebrating Smith's Creative Spirit
Leigh Fagin is the inaugural director of Smith's new Office of the Arts. In this interview, she discusses getting to know Smith and building the arts office from the ground up. "I have so enjoyed getting to know the creative spirit of this place," Fagin says.

Telling Stories Through Film

Two-time Academy Award winner Sharmeen Obaid-Chinoy '02 recently marked 20 years of storytelling through film with the creation of a digital exhibit that highlights her creative and personal journey over the last two decades.

Making Tracks

Kate Soper, associate professor of music at Smith and a composer, performer, and writer, recently made The New York Times Best Classical Music Tracks of 2022 list for her song "The Understanding of All Things."

A Keeper of Yiddish Culture

Christa Whitney '09 is the director of the Wexler Oral History Project at the Yiddish Book Center in Amherst, Massachusetts. For the project, she interviewed over 1,000 people to help build a deeper connection to Jewish culture and the Yiddish language.

Smithie Joins Congress, Makes History

In this interview with The Commons, Democratic U.S. Rep. Becca Balint '90—who is now the first woman and the first openly gay person to represent Vermont in Washington, D.C.—talks about what it's like to make history.
An Accessibility Makeover
Thanks to library director Jess deCourcy Hinds '00 and students in the school's Abled-Disabled Alliance, the library in Bard High School Early College in Queens is getting a makeover so it's more accessible for students with disabilities.
Press Play: Returning to Work Webinar
Are you navigating the challenges of returning to the workforce after a break? On January 26, career coach Gail Fritzinger '81 shares best practices to bolster your confidence and improve your return-to-work journey.
Posters for Peace
Angelina Lippert '07, chief curator of Poster House in New York City, was recently the competition curator and judge for the Imagining Peace 2022 poster competition held by U.S. Embassy Moscow. "Posters are the perfect medium to express succinct ideas in a rapidly changing world," says Lippert.
A One-Woman Show
Read about Sydney Weisman '25, whose art is on exhibit at the Manhasset Public Library in New York through the end of January. This is her second one-woman show at the library, with over 60 works on display.