News for the Smith College Community | January 25, 2023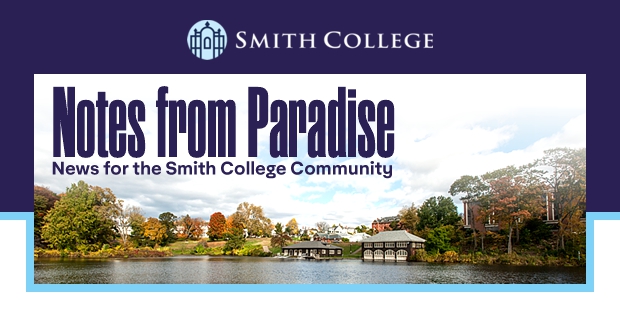 'A Love Letter to Black Girls'

Big Girl, the debut novel by Mecca Jamilah Sullivan '03, is featured in this New York Times review. The book is a coming-of-age story about a young Black girl growing up in Harlem and learning what it means to take up space.

Smithie Named UN Representative

Azusa Kubota '99 was recently appointed the new resident representative for the United Nations Development Programme (UNDP) in Sri Lanka. Kubota was previously the resident representative for the UNDP in Bhutan.

Who Needs Journalism?

Naila Moreira—director of Smith's new journalism concentration, a science writing instructor and a lecturer in English language and literature—authors this article about journalism and its connection to the liberal arts.

Discovery of Black Holes

Amanda Malnati '22 and Alyssa Cassity '20 are the main collaborators on a new study led by Dong-Woo Kim of the Center for Astrophysics in which hundreds of previously hidden black holes were recently discovered.
Taking Down a Mobster
In this video, Stephen L. Carter discusses his book about his grandmother Eunice Hunton Carter 1921, a Black lawyer who took down America's most powerful mobster. He's joined by his daughter, Leah Carter, who conducted research for the book.
'A Dark, A Light, A Bright'
Alexa Griffith Winton '90, a design historian at Cooper Hewitt, Smithsonian Design Museum in New York City, is co-curator of the upcoming exhibition A Dark, A Light, A Bright: The Designs of Dorothy Liebes.
A 'Stunning' Fiction Debut
Leila Mottley '24 is featured in this article "4 stunning fiction debuts by Bay Area authors of color" for her book Nightcrawling. Based on a true story, the novel is an Oprah's Book Club Pick and New York Times bestseller.
Smithie Is New CEO of Rite Aid
Elizabeth "Busy" Burr '83 was recently named the interim chief executive officer of the Rite Aid Corporation. Burr has an MBA from Stanford University and serves on the boards of Mr. Cooper Group, Satellite Healthcare and SVB Financial Group.