News for the Smith College Community | February 15, 2023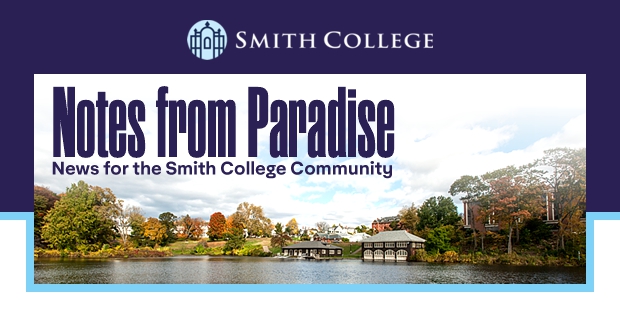 A Century of Psychology at Smith
The 100-year anniversary of psychology as its own discipline at Smith is featured in this article from the Winter 2023 SAQ. Maryjane Wraga, professor and chair of the psychology department, is interviewed about the importance of this milestone and her research into the department's history.

Pull Up a Chair
In this Winter 2023 SAQ article, Olivia Petty '26—a first-year student studying environmental science and policy with a concentration in journalism—discusses free speech and giving new voices a "seat at the metaphorical kitchen table."
The Best E-Newsletters for Writers
Samantha Paige Rosen '12 writes this article about her favorite email newsletters—by writers, for writers—that "offer the best of craft and publishing advice, writing prompts, pitch calls, and encouragement and commiseration about the writing life."
A Remarkable Leader
Currently co-CEO, Tulaine Montgomery '92 will soon be the sole CEO of New Profit, "a venture philanthropy organization that backs breakthrough social entrepreneurs who are advancing equity and opportunity in America."
Submit Nominations for Honorary Degrees
President Kathleen McCartney, chair of the Committee for Honorary Degrees, invites the Smith community—students, faculty, staff, alumnae, and trustees—to nominate individuals of distinction for honorary doctoral degrees. Submit your nomination here.