News for the Smith College Community | February 22, 2023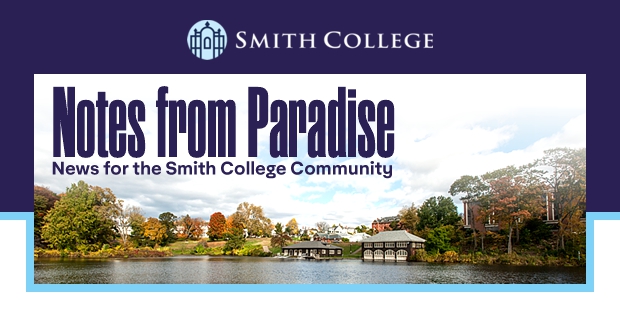 Basketball Team Soars to No. 1

After producing a perfect record in conference play (10–0), the Pioneers basketball team captured the No. 1 seed in the conference tournament and will compete for the title of NEWMAC Champion. The team will host a semifinals matchup with the winner of the game between No. 5 Springfield and No. 4 WPI on February 24 at 7 p.m. EST.

Smith Top Producer of Fulbright Scholars

With nine grant recipients for 2022–23, Smith has once again been named one of the nation's top producers of Fulbright scholars by the U.S. Department of State. Over 2,000 U.S. students, artists and early career professionals receive Fulbright Program grants annually.

SCMA's New Artist-In-Residence

Abdessamad El Montassir will be the spring artist-in-residence at the Smith College Museum of Art (SCMA). Join the SCMA on March 22 for "Memory, Forgetfulness, Historicization: Artist Abdessamad El Montassir in Conversation."

Meet the Majors: Emilia Tamayo '23

Emilia Tamayo '23, a double major in Latin American studies and government, says she knew she would major in Latin American studies at Smith because, in her words, "Being Colombian bleeds into every facet of who I am."

'The History of Women in Northampton'

Sara Stillitano '26 and Olivia Petty '26 write about Wednesday Sorokin '77 and four other women restoring a mural in Northampton, Massachusetts—one that the original artists created in 1980.
President McCartney on Implicit Bias Against Women
In a letter to The New York Times, President Kathleen McCartney responds to recent remarks about women made by CNN anchor Don Lemon. McCartney writes, "Mr. Lemon's comments underscore the need for continued workplace training on implicit bias, with the goal of promoting a culture of meritocracy. Effective leadership comes from people of all ages, all genders and all races."
Coming Soon to Smith: Alison Bechdel
Smith will host noted cartoonist Alison Bechdel on March 2 at 7 p.m. EST in John M. Greene Hall. Bechdel's papers, which include drafts, drawings, and notes that formed the basis for her comics, are housed in the Sophia Smith Collection of Women's History.
Smith People in the News
Check out this month's People News, which includes an exhibit by art professor Barry Moser, the winners of this year's Elevator Pitch Contest, a fellowship in honor of the late lawyer and advocate Nan Heald '77 and other accolades, promotions, scholarship awards and accomplishments.
Smithie is New CEO of Women Business Collaborative
Gwen Young '91 was recently appointed the next chief executive officer for the Women Business Collaborative (WBC). After attending Smith, Young earned a law degree from the University of California, Davis and a master of public policy degree from Harvard University.