News for the Smith College Community | March 8, 2023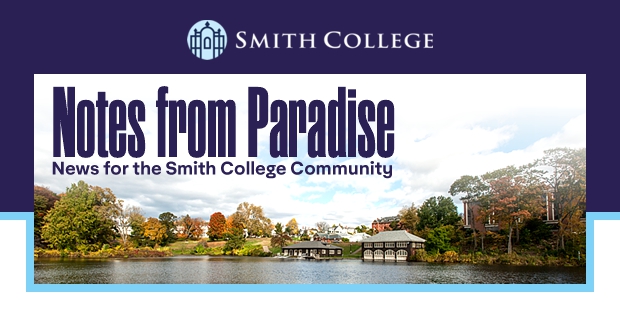 Smith Advances to NCAA Sweet 16

Watch highlights of the Pioneers beating St. John Fisher in the second round of the NCAA Tournament. Next up: The Sweet 16, where Smith faces the University of Mary Washington on Friday, March 10, at 8:30 p.m. EST.

Words of Wisdom

Read about Smith mathematics professor Candice Price, who was recently honored by Mathematically Gifted & Black. Her words of wisdom: "Remember: Imposter syndrome is a hater, you do not have to listen to it."

Airing Dirty Laundry

Lily Du '11, a comedy actor and writer, hosts the American game show Dirty Laundry, where guests enjoy a drink while they try to figure out whose secret is being spilled. The show just released its latest episode.

A Letter to American Theater

Diana Oh '08 directed their new play, My H8 Letter to the Gr8 American Theatre, at Smith's Hallie Flanagan Studio Theatre. In this interview, Oh talks about the theater industry and what it was like to be back on campus.