News for the Smith College Community | April 12, 2023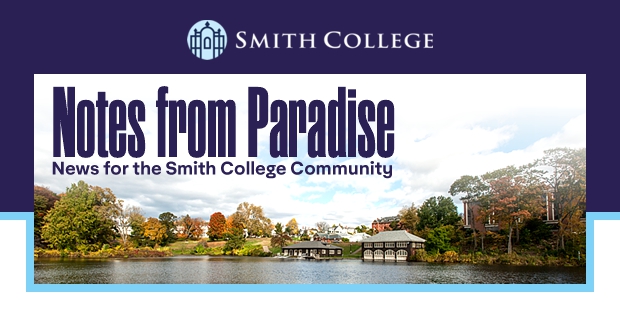 Webinar: How To Overcome Overwhelm
Feeling stuck? On Wednesday, April 19, at 1 p.m. EDT, mindset coach Kristin Dabney '90 shares a framework for getting into a growth mindset that helps you manage your thoughts, find the opportunity in challenges, and leave overwhelm behind.
Writing and the Practice of Buddhism
At a recent "Writers Speak" event at Harvard University's Mahindra Humanities Center, Ruth Ozeki '80 discussed Buddhism's impact on her writing. "I'm not sure I would still be writing if I weren't also practicing Buddhism," said Ozeki.
In-Person Draper Competition Is Back on Friday
After three years of virtual competitions, the Draper Competition is returning to its in-person glory on April 14, with indie-pop group MICHELLE as the guest performer. This year, 60 teams from across the country will compete in the semifinals at Smith. Draper is the only national business plan competition for undergraduate women.
Pianist and Smith Professor Jiayan Sun To Perform
In this video, Smith music professor Jiayan Sun talks about his performance with the Springfield Symphony Orchestra this Saturday, April 15, at 7:30 p.m. EDT. Sun is also participating in "Celebrating Pianos!"—performances of Rachmaninoff at Smith on April 22 and 23—and performing during Reunion Weekend I, on May 20 at 3 p.m. EDT.