News for the Smith College Community | April 19, 2023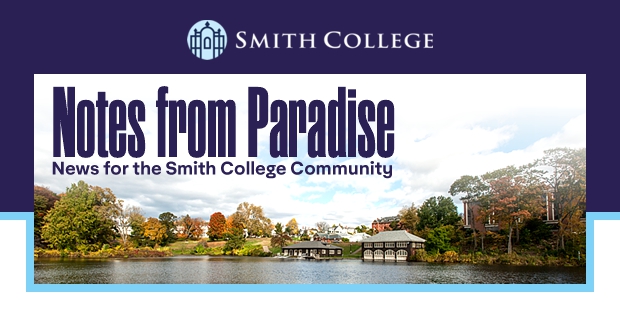 Smith Alum Makes Barron's Annual List

Anu Aiyengar '91 is one of five South Asian Americans to make Barron's list of the "100 Most Influential Women in U.S. Finance." She is the global head of Mergers & Acquisitions at J.P. Morgan and a Smith College trustee.

Making Unapologetic Music

Kara Jackson '23, a singer-songwriter, musician, and writer from Oak Park, Illinois, and a National Youth Poet Laureate from 2019 to 2020, talks to Pitchfork about her "mournful, joyful, unapologetic music."

2023 Sherrerd Award Recipients

Read about the three faculty members who are this year's Sherrerd Teaching Award winners: Jay Garfield, professor of philosophy; Barbara Kellum, professor of art; and Erin Pineda, professor of government.

Athletics Giving Challenge Is Tomorrow!

The Smith Athletics Giving Challenge on April 20 is a 24-hour competition to raise funds for Pioneer Athletics. Please donate and help provide our student-athletes with the resources they need to compete at the highest level.
A Story of Sisterhood, Survival, and Music
Susan Hood '76 recently received a Christopher Award for her book Alias Anna, a novel-in-verse that tells the true story of two young Ukrainian Jewish sisters who use their piano playing talents to outwit the Nazis during World War II.
Smithie Writes Test Piece for Competition
Canadian American composer Luna Pearl Woolf, MA '02, recently created a commissioned work for the violin as a test piece for Canada's Concours Musical International de Montréal, an elite-level competition for classical musicians.
The Impact of Light Pollution on Earth
On WWLP.com's Mass Appeal, James Lowenthal, professor of astronomy at Smith and the president of the Massachusetts Chapter of the International Dark-Sky Association, is interviewed about light pollution and how it's impacting life on Earth.
'Two Wars and a Wedding'
Read this review of Lauren Willig's latest work of historical fiction, Two Wars and a Wedding—about Smith graduate Betsy Hayes and her best friend Ava—in which Willig is described as "an expert wordsmith who writes thoroughly enjoyable stories."