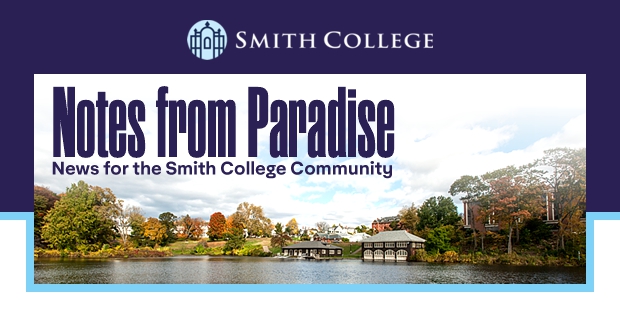 A CEEDS Gift Challenge
Climate activist Kathy Sharp Borgen '64 says Smith is uniquely positioned for climate action, and she's making a gift to inspire others to help endow Smith's Center for the Environment, Ecological Design, and Sustainability (CEEDS).
'Pride and Prejudice' Reimagined
In his play Pride@Prejudice, Smith theatre professor Daniel Elihu Kramer deconstructs and reexamines Jane Austen's 1813 novel Pride and Prejudice through the lens of a high-speed internet world. The play runs through May 6 in Port Jefferson, New York.
Rising and Falling
Learn about a new exhibit by American contemporary artist Lesley Dill '75 titled Ascend: Until the Urge to Rise Meets the Urge to Fall showing at the Nohra Haime Gallery in New York through May 6.
And Now: Len Berkman
In this episode of And Now, Smith theatre professor Len Berkman talks about theater, film, and television. Berkman has taught playwriting, theater history, and the dramatic literature of various nations and cultures since 1969 and has won several awards.