News for the Smith College Community | May 10, 2023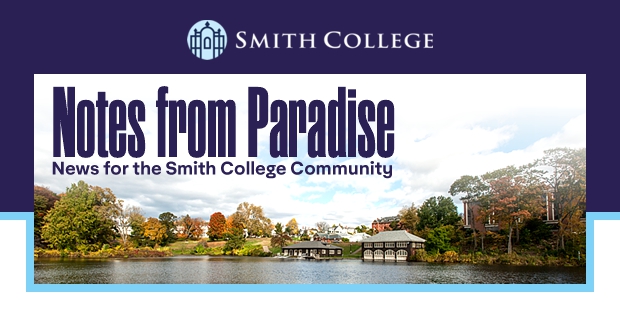 Living in Uncertain Times

In this interview with CNBC's International TV, Saadia Zahidi '02, managing director at the World Economic Forum (WEF), discusses the conclusions of the latest WEF jobs report and the forecast for the global economy.

A Memory Mirror

Lares Feliciano '07 has a new immersive art installation at the Denver Art Museum titled Memory Mirror that invites visitors to explore their relationship with memory through animation, shadowboxes, and interactive storytelling.

Being Our Authentic Selves

Authentic Selves: Celebrating Trans and Nonbinary People and Their Families is a traveling exhibit, with a companion book by Peggy Elman Gillespie '69, that illuminates the experiences of transgender and nonbinary individuals.

Shaking Things up in Hollywood

In this interview, Amanda Essick Burrell '04, president of Team Downey, talks about her career, her mistakes, current projects, and five things she wishes someone had told her when she first started filmmaking.
On Being a Smithie
Chanthea Quinland '23—a computer science major and a member of Black Girls Hack and Black Girls in Cyber—talks about what it means to be a Smithie, who has influenced her the most, and why donors should support financial aid.
'Finding a Job That Loves You Back'
The book Finding a Job That Loves You Back, co-authored by Carly Inkpen, M.S.W. '16, is featured in this review. A writer and collage artist, Inkpen currently works as a psychotherapist and is training to practice as a psychedelic therapist.
Teaching the Art of Acting in Mumbai
Smith theatre professor Daniel Elihu Kramer authors this blog post about an acting workshop he taught in Mumbai, India. Attended by 14 women, the workshop involved using two translators and working across three languages—English, Hindi, and Marathi.
Smith Alum Is a Legal Pioneer
Described as a "true legal pioneer," Joan Lukey '71 recently joined the Trial, White Collar, and Investigations practice of Manatt, Phelps & Phillips LLP—a multidisciplinary, integrated professional services law firm in Boston where she is a partner.