News for the Smith College Community | May 24, 2023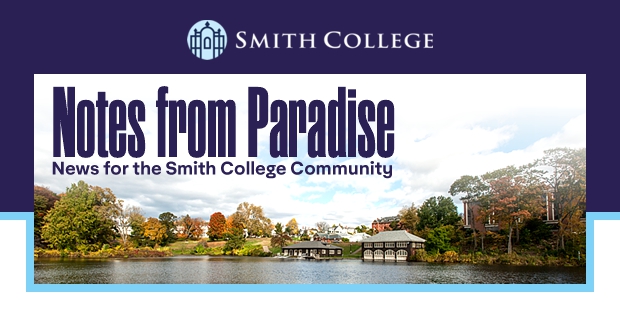 Photos: Commencement and Reunion

Check out these photos of Commencement, Reunion, Ivy Day, Illumination Night, and many other Smith traditions that were celebrated on campus this past weekend. Up next: Reunion II, which starts tomorrow, May 25.

Life as a Professional Mermaid

Cynthia Wade '89 is the director of the new Netflix show MerPeople. The four-part docuseries dives into the world of underwater performers who have turned their love for mermaiding into high-stake careers.

Giving Us People To Love

In this interview with NPR's All Things Considered, musician and former national youth poet laureate Kara Jackson '23 talks about her recent debut album, Why Does the Earth Give Us People To Love?

Smith Alum To Run for Governor

Hilary Franz '92, currently the Washington state lands commissioner, has announced her plan to run for governor in 2024. She will be up against fellow Democrat Bob Ferguson, the Washington attorney general.

Exploring 'Public Feminisms'

Smith professor Carrie Baker and Aviva Dove-Viebahn, assistant professor at Arizona State University, recently announced the publication of their new book, Public Feminisms: From Academy to Community.
Secrets Between a Mother and Her Daughter
Read this review of The Courtesan's Daughter by Susanne Dunlap '76, MA '91. Set in New York in 1910, the book tells the story of 17-year-old Sylvie and her mother, Justine, a French immigrant. Dunlap has written 12 works of historical fiction.
The Work of Female Mathematicians
Victoria Booth '86 received the 2023 J.D. Crawford Prize for her work in nonlinear science. In this Q&A, she explains her award-winning research on modeling sleep-wake regulation and circadian rhythms and lauds the work of female mathematicians.
Alum Named an 'Executive To Watch'
Stacy Malkin Schwartz '84 is one of the "Five Executives to Watch in the Public Safety Market." Schwartz heads the business group that serves the customers in the federal Homeland Security, Justice, and State departments.
From the Philippines to Smith College
In this interview, Rya Jasmin Donelo—a high school senior in the Philippines who was accepted into Smith's class of 2027—talks about the full scholarship she received and the advice she would give to Filipino seniors interested in studying abroad.