News for the Smith College Community | May 31, 2023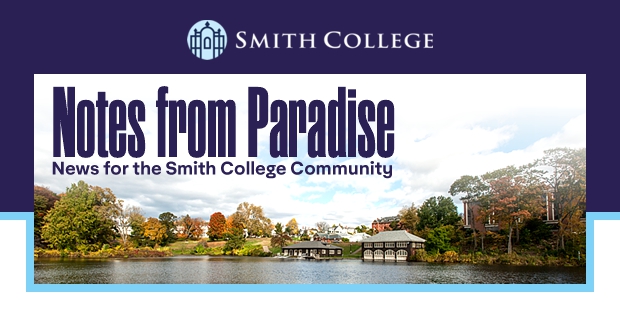 The Warmth of Smith's Embrace
Enjoy these highlights from the past weekend, when 1,000-plus alums and their guests gathered on campus to celebrate Reunion II. President Kathleen McCartney, who is retiring on June 30, welcomed alums, noting, "The Smith community is unlike any I have ever known. It welcomes you in. Let the warmth of its embrace fortify your soul."

Studying the Language of Old English

In this interview, Hana Videen '07 talks about her book The Wordhord: Daily Life in Old English and one of her favorite words, wordhord: "A poet's stockpile of words and phrases that they could draw upon when performing poetry."

Smithie Honored for Excellence

S. Mona Sinha '88, global executive director of Equality Now, recently received the Horton Award for Excellence in Social Enterprise from the Columbia Business School's Tamer Center for Social Enterprise.

Reasons for Hope

In this episode of Burnt Toast, Tigress Osborn '96, fat rights advocate and chair of the board of the National Association to Advance Fat Acceptance (NAAFA), talks about legislation to address size discrimination.

Tales of Transformation

On June 8 at 7 p.m. EDT in New York City, drug reform advocate Ifetayo Harvey '14 will participate in Tales of Transformation, a panel discussion about how psychedelic experiences can evolve into collective transformation and new life callings.
Seeking Kinship in the Cosmos
Jaime Green, a science writer and a lecturer in English language and literature at Smith, shares five insights from her new book, The Possibility of Life: Science, Imagination, and Our Quest for Kinship in the Cosmos.
The Value of Community College Transfers
Nolvia Delgado '11 authors this article about the importance of community college transfer programs. "The goal should be to establish the routine expectation that community college transfers belong at strong four-year schools," she writes.
Overcoming Double Depression
Check out this review of the recent memoir by Bethanne Kelly Patrick '85, Life B: Overcoming Double Depression, in which she tells the story of her lifelong struggle with depression and her eventual diagnosis of double depression at age 52.
A Guide To LGBTQ+ Pride Flags
Jennifer DeClue, Smith associate professor of the study of women and gender, is quoted in the article "Welcome to Your Comprehensive Guide to the Meaning and History Behind Every LGBTQ+ Flag" in honor of Pride Month, which begins tomorrow.