News for the Smith College Community | August 9, 2023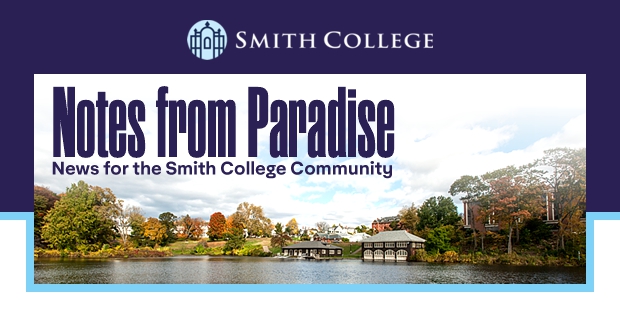 Making an Exit

As Deputy Secretary of State Wendy Sherman '71 prepares to retire, she sits down with NPR to share her thoughts on the United States' strained relationship with China and U.S. public opinion on President Biden's foreign policy.

The Chain of Freedom

Smith professor Loretta J. Ross and 22nd Century Initiative director Scot Nakagawa discuss Ross' work with the National Anti-Klan Network, the status of the far right, and the importance of mobilizing.

Poetry Center Director Talks About Gun Poems

In this podcast, Matt Donovan, director of The Boutelle-Day Poetry Center, talks about his poem "Guy with a Gun" and what inspired it; his latest collection of poetry, The Dug-Up Gun Museum; and Smith's Poetry Center.

Offering a Helping Hand

Lisa Pick Conescu '70 is interviewed about her work with Jefferson Dollars for Scholars, a nonprofit that provides public school students with college scholarships, summer enrichment programs, test preparation, and laptops.

One Smithie's Journey to Public Office

In this interview, Sen. Tammy Baldwin '84 reflects on her childhood and why she pursued public office, tackled the country's opioid addiction and mental health crises, and worked to pass the Respect for Marriage Act.
A Sailing Race Around the World
The team of Wendy Schmidt '77—co-founder of 11th Hour Racing and president and co-founder of The Schmidt Family Foundation and Schmidt Ocean Institute—won the eight-month 11th Hour sailing race around the world.
Modern Women, Modern Vision
Read about the traveling show titled Modern Women/Modern Vision: Photographs from the Bank of America Collection, now at the Taft Museum of Art in Cincinnati, Ohio. The show features the work of Sandy Skoglund '68 and five other legendary photographers.
Smith Professor Workshops Three Faulkner Novels
Beginning August 21, Michael Gorra, professor of English language and literature at Smith, will focus on three of Faulkner's greatest novels in a three-session online series sponsored by the Smithsonian Associates.
An Examination of 'Welfarism' and Disability Advocacy
Susan Levin, Smith Roe/Straut Professor in the Humanities and professor of philosophy at Smith, recently published "A world of difference: The fundamental opposition between transhumanist 'welfarism' and disability advocacy" in the journal Bioethics.
Former Smith President Named NEH Jefferson Lecturer
As the newly named 2023 Jefferson Lecturer in the Humanities, Ruth J. Simmons—former president of Smith, Prairie View A&M, and Brown University—will deliver "Facing History to Find a Better Future" at the Smithsonian National Museum of African American History and Culture on September 26 at 7 p.m. EDT.