News for the Smith College Community | September 20, 2023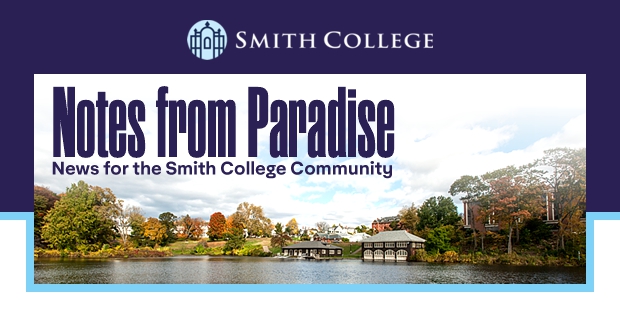 2024 Smith Medal Recipients Named
Established in 1962 to recognize accomplished, inspirational alums, the Smith Medal will be awarded to four individuals during next year's Rally Day. Learn more about the recipients and how they've improved the world through their work.

Laura Rauscher Celebration of Life

On Sunday, Oct. 1, inside the Helen Hills Hills Chapel, a service will be held to celebrate the late Laura Rauscher, who was a beloved adjunct professor at the School for Social Work and director of disability services for Smith. All are welcome.

Smith Rings in Mountain Day 2023

A Smith tradition since 1877, Mountain Day was Tuesday, Sept. 19. In the morning, students were treated to donuts and cider on Chapin lawn, where President Sarah Willie-LeBreton was on deck to celebrate her first Mountain Day. Apples were also delivered to campus houses for students to enjoy.

A Joyful Community Art Project

Calling all alums: Help welcome President Sarah Willie-LeBreton by sharing up to three photos of things that bring you joy. Your images will be transformed into a piece of community art that will appear on Smith's social media, website, and at Willie-LeBreton's inauguration on Oct. 21.

Kiki Smith '71 on Fashion's Evolution

Published earlier this month, Real Clothes, Real Lives: 200 Years of What Women Wore, by theatre professor Kiki Smith '71, studies hundreds of items from Smith's historic clothing collection and reflects on the evolution of women's roles.

Michelle Hebl '91 Earns Leadership Award

The diversity, equity, and inclusion division of Rice University's Academy of Management recently honored Michelle "Mikki" Hebl '91 for her contributions to education and the development of women in leadership.