News for the Smith College Community | November 8, 2023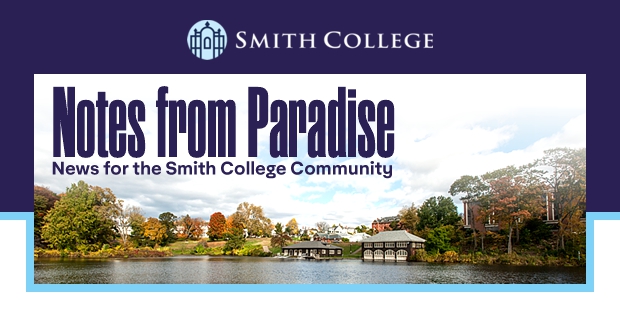 Cromwell Day Offers Poetry Readings, Live Music, and More

Featuring a keynote address by Black feminist scholar and cultural theorist Brittney Cooper, this year's Cromwell Day reflected on ways that joy can accompany the hard work of addressing racial injustice.

Professor Loretta Ross Speaks About Redemption, Accountability

In a feature for the "Women & Power 2023" series of the Boston Globe, Ross recounts experiencing racist, misogynistic, hateful situations firsthand, how they've informed her life philosophy, and why she doesn't believe in a "cancel culture."

Trailblazer Betty Goldstein Friedan '42 Topic of New Biography

Author of the groundbreaking book The Feminine Mystique, Friedan had a far-reaching impact on the way society viewed and understood women. Her legacy is the subject of a new biography by Rachel Shteir.

Jena Kim '27 Wins Young Women's Leadership Award

In October, American Banker recognized economics major Kim as someone who's "always been a leader in her community," citing her role as president of her high school's Key Club chapter and her involvement in various organizations.

Smithies Participate in Multiyear Tree Study

In collaboration with Holyoke Community College, students from Smith have embarked on a long-term project to better understand tree health, which includes monitoring trees in nearly 100 locations around Holyoke.
Faculty Panel on Palestine and Israel
Today, at 4:15 p.m. in the Weinstein Auditorium, colleagues from the departments of government, Middle East studies, and religion will participate in a panel on the ongoing Middle East conflict. Note: This event is open to Smith faculty, staff, and students only.
New Recognition for Women Codebreakers Trained at Smith
During World War II, the Navy sought out women's college graduates who "demonstrated good math and language skills." Promising recruits, this story explains, underwent codebreaking training at Smith before beginning their assignments in Washington, D.C.
Leigh Berrien Smith '49 Honored by League of Women Voters
An active member of the Martha's Vineyard league since 1987, Smith was celebrated by her friends, family, and colleagues during a special tea in September. "Her living legacy to us has set a standard to which we all can aspire," said the Martha's Vineyard Times.
Mass. Law Office Welcomes Allison Laughner '19
At Bulkley Richardson in Springfield, Mass., Laughner will be splitting her time between the trusts and estates and the family law departments, according to a press release issued by the firm.
Shikha Jain '07 on Holiday Planning, Trends
A partner at consulting firm Simon-Kucher and head of its Boston office, Jain spoke about highly anticipated retail events, such as Black Friday and Prime Day, and consumer behavior during a chat with TotalRetail.