News for the Smith College Community | November 15, 2023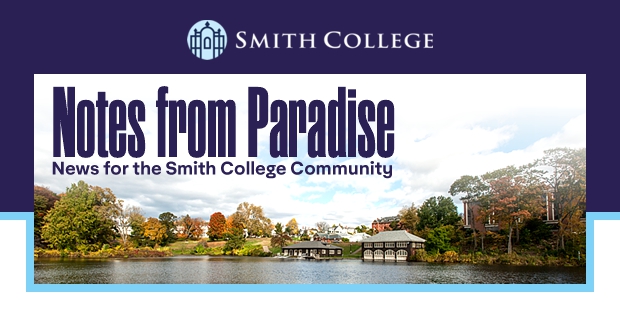 Alumnae House Unveils Elegant Renovation

Blending tradition and innovation, the renovation project has resulted in a building that's accessible, inclusive, energy efficient, and equipped with new technology. The Smith community is invited to explore the revamped, rejuvenated Alumnae House.

Five College Dance to Perform Lucinda Childs' Master Work

Starting tomorrow, the troupe will perform Dance and other works during a series of evening concerts. Recently featured in Dance magazine, Five College Dance showcases talent from the Amherst,­ Smith, Mount Holyoke, and Hampshire colleges and UMass Amherst.

Heidi Brieger '79 Named Chief Justice of the Massachusetts Trial Court

Effective Dec. 22, Brieger will succeed Jeffrey Locke in one of the top posts in the state's judiciary. In this new role, she will partner with the court administrator to oversee 385 judges, more than 6,000 staff, and 94 courthouses.

Garrett Bradley '07 Awarded Eye Art & Film Prize

Bradley was recently honored by the Eye Filmmuseum during a ceremony in the Netherlands. "Bradley receives the prize for her trailblazing work, in which she combines a personal visual style with research and social commitment," the museum said in a press release.

Celia Douville Beaudoin '24 Gets French Creative Writing Prize

Douville Beaudoin received first prize for a short fiction story (written in French) she sent to Nouvelles Avancées, an annual writing competition presented by the Institut Polytechnique de Paris. Her piece, "Le Pot Chantant," will be published in a collection with the other award finalists.